In today's fast-paced digital landscape, every second counts. Time is the one resource that businesses can't get back. As companies search for efficient ways to manage their daily tasks, video scheduling emerges as a game-changer. But, why is video scheduling the best time saver for businesses?
Power of Video Scheduling: Why Is It a Time Saver For Businesses?
Video scheduling merges the functionality of video messages and appointment booking. It provides businesses with an opportunity to automate appointment setting, while also integrating the ability to have video interactions, whether it's for a team meeting, a client consultation, or a product demonstration.
Here's a closer look at what it brings to the table:
Seamless Integration: Video scheduling platforms integrate with popular calendar apps and software, ensuring that all parties are updated in real-time about scheduled video calls.
Automated Reminders: With automated email and SMS reminders, missed meetings become a thing of the past.
Customizable Time Slots: Businesses can set available time slots based on their work hours, ensuring that clients and team members can only book during those times.
Recording Capabilities: Many platforms allow meetings to be recorded, offering a reference for later or for those who missed the meeting.
While numerous platforms offer video scheduling, one that stands out is Weezly. An innovative mix of two powerhouse platforms – Calendly and Loom – Weezly combines the best features of both to provide a robust solution for businesses.
Video Scheduling: How Every Business Can Benefit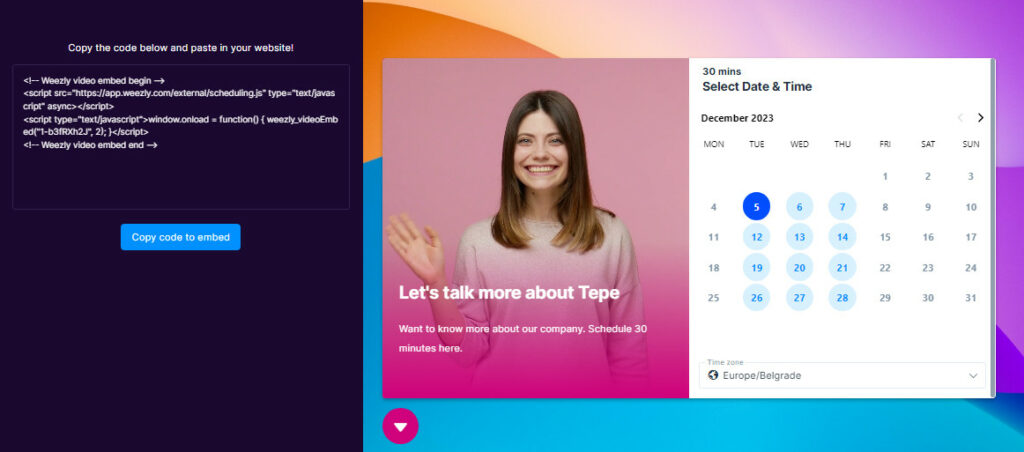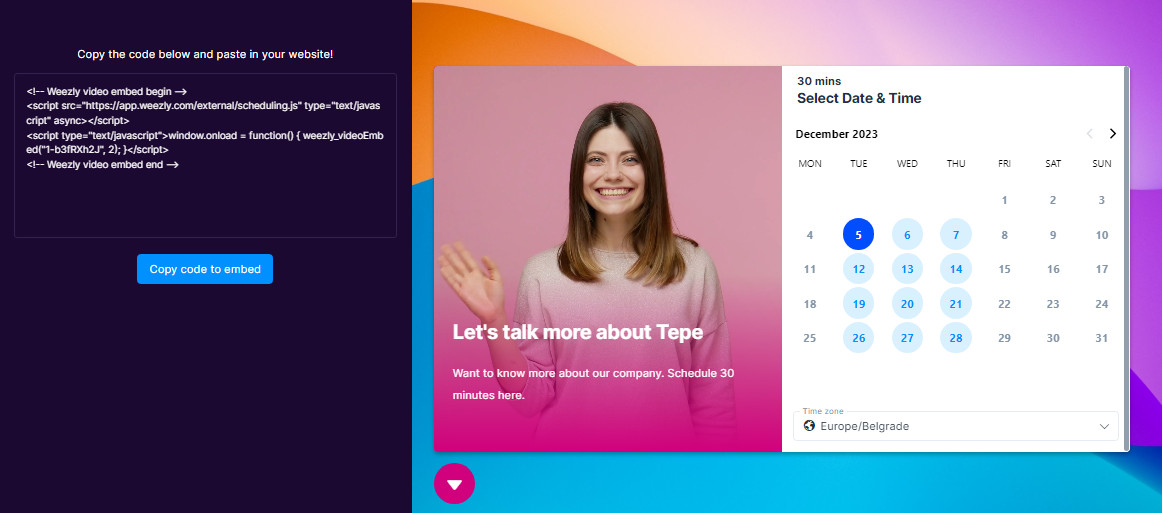 In light of remote work trends and technological advancement, businesses are turning towards video communication more than ever before. Online meetings have become the new norm, leading to an increased importance for efficient video scheduling. This capability offered by platforms like Weezly is highly beneficial in multiple aspects:
Eliminates Scheduling Hassles: The handy tool does away the need for tedious email exchanges or phone calls to set up meetings.
Reduces Time Strain: A preset schedule allows team members to optimize their tasks accordingly, saving significant time and reducing conflicts.
Ensures Higher Attendance: Video scheduling ensures high attendance rates by allowing participants to pick suitable slots based on their availability and sending timely reminders.
Improves Meeting Quality: Well-planned meetings translate to better content delivery, active participation, and enhanced productivity.
Whether planning a mentor meeting agenda, strategizing your salesforce plus scheme, conceptualizing a B2B video marketing strategy, or trying to maximize earnings, video scheduling takes care of the logistical worries, freeing up vital resources for focusing on core business tasks.
Comparing Weezly to Other Platforms
Given the uniqueness of Weezly, it's essential to see how it stacks against other platforms in the market:
Feature-Rich: Unlike other platforms that may focus on either video conferencing or scheduling, Weezly combines the strengths of both Calendly and Loom. This results in a richer set of tools for businesses.
Intuitive Interface: For those familiar with either of the parent platforms, Weezly's interface will feel instantly recognizable and user-friendly.
Integrated Workflows: Being a combination of two market leaders, Weezly ensures streamlined workflows, reducing the learning curve for businesses.
Affordability: When considering the cost of subscribing to multiple platforms, Weezly provides a cost-effective alternative by offering the features of two products in one package.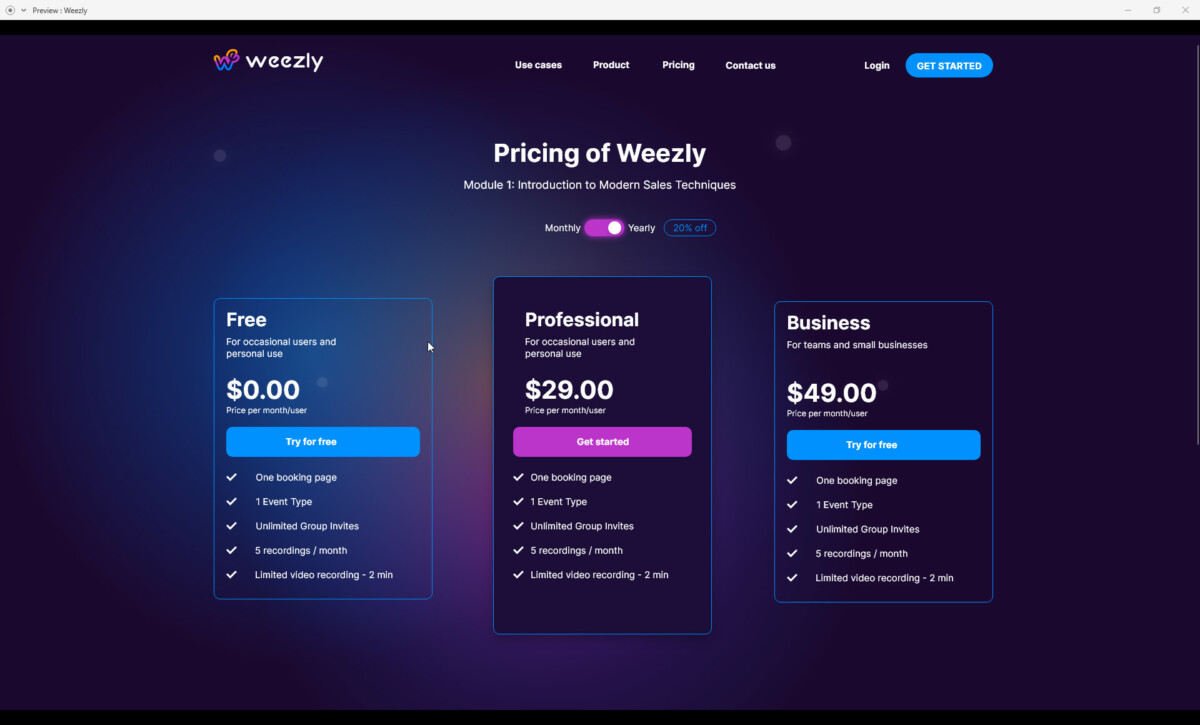 Practical Use Cases in Businesses
To further understand the transformative power of video scheduling, let's examine a few scenarios:
Consultations: Professionals like doctors, lawyers, or consultants can schedule and conduct their consultations via video, saving both time and travel costs.
Product Demos: Sales teams and marketing teams can showcase products in real-time to potential clients, answering queries instantly.
Interviews: HR teams can schedule and conduct interviews with potential candidates, making the hiring process more efficient.
Team Meetings: With remote work becoming a norm, video scheduling ensures that teams spread across different locations can sync up easily.
SEE MORE: How To Increase Sales With Weezly?
Wrapping Up
With the undeniable advantages that video scheduling offers, it's no wonder that businesses are rapidly adopting this technology. In an age where efficiency and effective communication are paramount, platforms like Weezly prove to be invaluable assets.
Businesses now have the tools to not only save time but also to enhance their service delivery, reach a broader audience, and streamline their operations. The future is digital, and with the rise of integrated platforms like Weezly, it's evident that video scheduling is here to stay and revolutionize the way businesses operate.
EXPLORE: How To Create a Video Widget in Weezly: Step-by-Step