With an ever-growing digital landscape, the modern professional always looks for tools that enhance efficiency, streamline workflows, and foster engagement. Two recent tools that have gained immense traction are Loom, a video messaging tool, and Calendly, a scheduling platform. Each has its unique strengths, but what if there was a product that combined the best of both worlds? Enter: Weezly. So, let's see why choose between Loom and Calendly when you need Weezly.
A Brief History: Loom and Calendly
Before delving into the magic of Weezly, let's embark on a brief journey down memory lane to understand the strengths and popularity of both Loom and Calendly.
Loom: More than Just a Video Tool
Loom made waves in the market by offering quick, asynchronous video messages. Instead of long emails or waiting for video call schedules to align, Loom allowed users to:
Record their screens
Embed personal video messages
Share these videos seamlessly
For businesses, this meant enhanced personal touch in customer engagement, better internal communication, and improved training processes.
Calendly: Scheduling Simplified
On the other hand, Calendly took the often tedious task of scheduling and transformed it into a hassle-free experience. Key features included:
Integration with personal calendars
Time zone conversions
Flexible meeting types
For many professionals, Calendly was a godsend, eliminating the back-and-forth of scheduling conflicts and manual tracking.
Why choose between Loom and Calendly when you actually need Weezly?
While Loom and Calendly are stellar in their respective domains, the desire for a holistic tool led to the birth of Weezly. But what makes Weezly not just an alternative, but arguably a superior choice?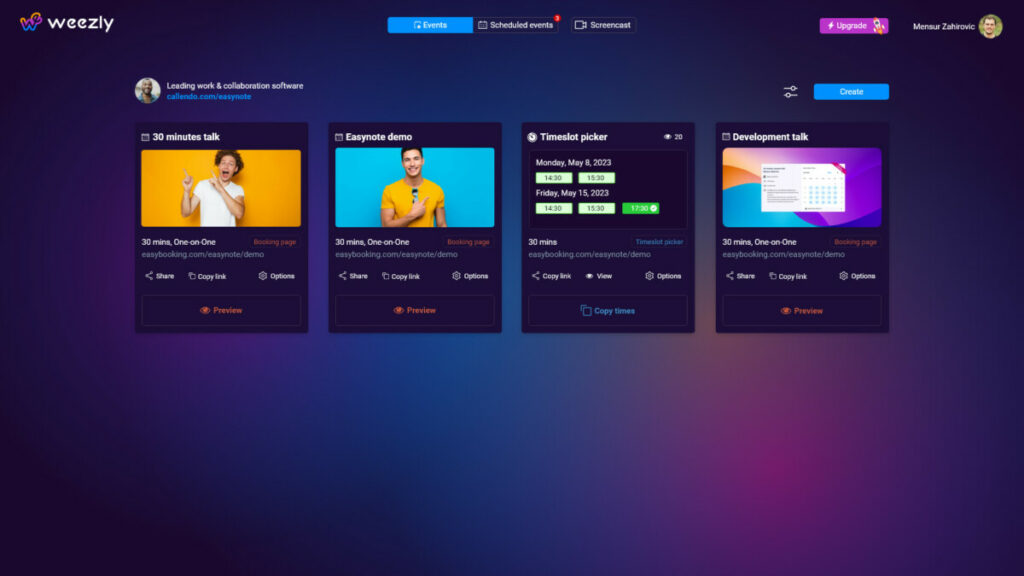 Features Galore
Drawing from the best of both platforms, Weezly offers:
Video Messaging: Like Loom, users can record and share videos, enhancing personal touchpoints.
Integrated Scheduling: Borrowing from Calendly, Weezly allows for seamless meeting planning without ever leaving the platform.
Screen Recording with Annotations: Go beyond traditional screen recordings by adding notes and highlights.
Automated Reminders: Never miss a meeting with timely notifications and updates.
Unified Workflow
Weezly isn't just about features; it's about creating a unified, streamlined workflow. By combining the core utilities of Loom and Calendly:
Professionals can schedule meetings and follow them up with personalized video messages.
Sales teams can book demos and share video testimonials all from one platform.
Trainers can schedule sessions and provide asynchronous feedback.
Enhanced User Experience
Weezly stands out not only for its combined functionality but also for its user-centric design. A few user experience enhancements include:
Intuitive Dashboard: Manage videos and schedules from a unified dashboard.
Collaboration Tools: Work together, share feedback, and iterate in real-time.
Custom Branding: Reflect your brand's identity in every interaction.
Why Weezly is the Best Loom Alternative (and More!)
While it's clear that Weezly offers the scheduling prowess of Calendly, it's also important to note its strengths as a video tool, making it a top Loom alternative.
Higher Quality Video Playback: Enjoy crisp visuals and clear audio.
Advanced Editing Features: Trim, cut, and enhance your videos effortlessly.
Interactive Video Elements: Engage viewers with clickable links, polls, and more.
Secure Storage: Keep your videos safe with advanced encryption and security features.
Weezly – Between Loom and Calendly
In today's digital age, efficiency and effectiveness are the keys to professional success. Why juggle multiple tools when Weezly offers a harmonious blend of video messaging and scheduling? Whether you're familiar with Loom, Calendly, or neither, Weezly is a game-changer that promises to reshape digital communication and collaboration.