Meetings, while essential for effective communication, often fall victim to unforeseen changes or challenges. And when these changes occur, it's essential to convey them effectively and politely. One of the most common mediums for this communication is email. However, rescheduling a meeting through email can be more than just announcing a change. It's about maintaining professionalism, fostering trust, and being respectful of other people's time. Here's a comprehensive guide on how to master the art of meeting rescheduling emails.
Why is Rescheduling Important?
Before diving into the nitty-gritty, it's crucial to understand why proper rescheduling is paramount:
Professional Integrity: Keeping commitments is crucial. However, when changes are unavoidable, acknowledging and communicating them underlines your professional integrity.
Value for Time: Everyone's time is valuable. By efficiently communicating a rescheduling, you show respect for other attendees' schedules.
Avoiding Confusion: Ensuring everyone is on the same page avoids confusion and ensures the meeting will be productive.
Key Components of a Meeting Rescheduling Email
Every email has crucial components that make it effective. For a meeting rescheduling email, these components ensure clarity and politeness. Here are the critical parts to include:
Clear Subject Line: This is the first thing the recipient sees. A subject like "Rescheduling Our Meeting on [Original Date]" is clear and to the point.
Acknowledgment of Original Date and Time: Begin by referencing the original date and time, making it clear to the recipient what you are referring to.
Reason for Rescheduling: While you don't need to delve into personal details, it's respectful to provide a reason.
Proposed New Date and Time: Offer a new date and time, preferably with a couple of options to provide flexibility.
Apology: A simple acknowledgment of the inconvenience caused is courteous and appreciated.
Ask for Confirmation: Ensure the recipient acknowledges the change to avoid future confusion.
Sample Email Format:
Subject: Rescheduling Our Meeting [Time]
Dear [Recipient's Name],
I hope this email finds you well. I'm reaching out to discuss our upcoming meeting initially scheduled for [Original Date and Time]. I regretfully have to reschedule because [Reason for Rescheduling], I'm unable to meet at that time.
Would [New Proposed Date and Time] or [Another Proposed Date and Time] work for you? I understand this may be an inconvenience, and I sincerely apologize for any disruptions. I suggest that you mark when you are free for a meeting on this Weezly link so that we can agree as quickly as possible.
Please let me know which time works best for you or if there's another preferable slot.
Thank you for your understanding.
Warm regards,
[Your Name]
Best Practices for Meeting Rescheduling Emails
Be Proactive: As soon as you know a meeting needs to be rescheduled, send out the email. Prompt communication shows responsibility and respect.
Keep it Concise: While it's essential to be polite and clear, avoid overly verbose emails. Stick to the point.
Use Tools: Use Weezly to propose new times and avoid the back-and-forth of finding a suitable slot.
Follow-Up: If you don't receive a confirmation within a day or two, send a gentle reminder.
Overcoming Potential Challenges
Rescheduling can occasionally lead to some challenges:
Multiple Reschedules: If a meeting has been rescheduled multiple times, acknowledge it in your email. Apologize for the inconvenience and assure the recipient of the importance you place on the meeting.
Last-Minute Changes: These are especially inconvenient. When this happens, acknowledge the short notice, provide a reason, and possibly offer to make it up in some way, such as flexibility in the next meeting's location or medium (e.g., a coffee meetup or a virtual call).
Dealing with Frustrated Recipients: Some attendees might be frustrated with the reschedule, especially if it affects their plans. Here, empathy is crucial. Understand their perspective, apologize sincerely, and ensure you maintain better scheduling in the future.
The Power of Efficient Appointment Scheduling Platforms
A significant part of efficient meeting management pivots around employing the right technology. Platforms such as Weezly are fantastic for managing schedules with external parties. However, there's also an array of other equally powerful options, each with its own unique strengths.
With Weezly, users can create personalized scheduling links that they can share with others. When someone clicks on this link, they are presented with the available slots based on the user's preferences and real-time calendar availability. This eliminates guesswork and ensures that the time chosen is convenient for the host.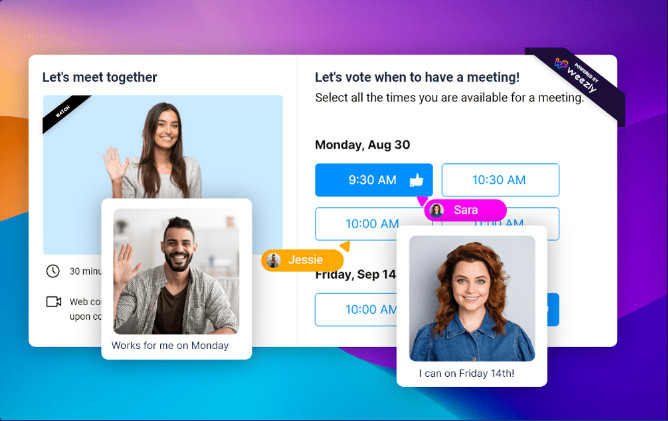 In Conclusion
Life is unpredictable. Changes occur, and sometimes meetings need to be adjusted. However, with clear communication, respect for time, and a touch of empathy, the process can be smooth. Remember, it's not just about finding a new slot; it's about building trust and showing professionalism.
By mastering the art of meeting rescheduling emails, you ensure that unforeseen changes don't hamper your relationships or professional integrity.