As businesses worldwide evolve, appointment scheduling has become an operational cornerstone. While Calendly has been a noteworthy choice, several alternative platforms are pushing the envelope with their unique features. This exhaustive guide aims to deep-dive into each of these solutions, giving you a comprehensive look at the top-notch Calendly alternatives in 2023.
Rising as a distinctive front-runner in digital scheduling solutions, Weezly brings to the table an array of features designed to revolutionize how businesses operate.
Efficient Video Alternative
What truly sets Weezly apart is its novel video alternative feature. This ground-breaking approach to scheduling transforms the booking process into a more engaging, interactive experience. As a result, businesses see a marked increase in meeting rates, which in turn enhances productivity and stakeholder engagement. This feature serves as a testament to Weezly's commitment to delivering more than just a scheduling tool — it's a platform designed to foster communication and interaction.
Affordable Lifetime Deal
When it comes to pricing, Weezly has truly broken the mold. By offering a lifetime deal starting from just $49, Weezly ensures that startups, small and medium enterprises, and even individual entrepreneurs have access to a powerful scheduling solution that doesn't break the bank. This strategic pricing puts Weezly in a league of its own, delivering exceptional value without compromising on the breadth and quality of features.
Seamless Integration
Weezly understands that businesses today utilize a variety of tools and platforms. To cater to this need, it offers seamless integrations, enabling users to connect Weezly with their existing systems. This helps to streamline operations and ensures a smoother, more efficient workflow.
Functioning as a smart personal assistant, Acuity Scheduling is a robust platform designed to handle all your scheduling needs. It offers a variety of pricing options, starting from $15/month for the Solo plan.
Comprehensive Time Zone Support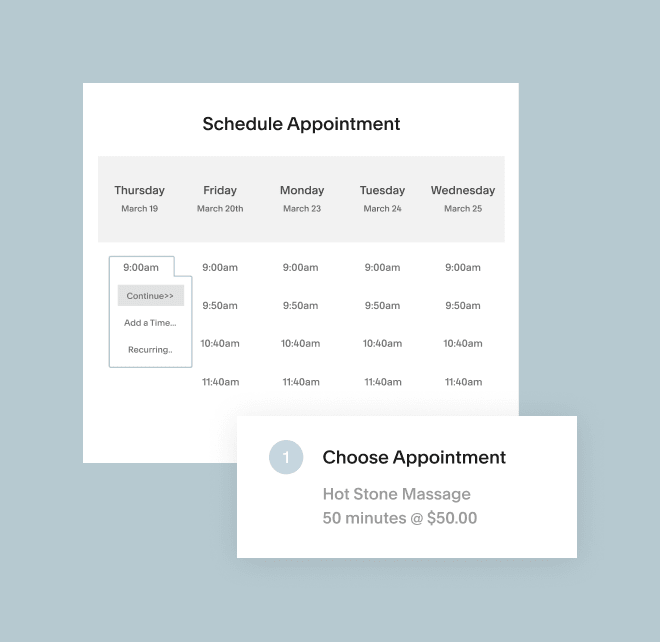 One of Acuity Scheduling's most notable features is its comprehensive time zone support. This global coverage ensures that businesses operating in multiple regions can harmonize their schedules, thereby improving operational efficiency and minimizing confusion or scheduling conflicts.
Robust Third-party Integration
Acuity Scheduling is designed to fit perfectly into any business' operational ecosystem. With support for a host of third-party platforms such as PayPal, Stripe, Quickbooks, and more, Acuity enables businesses to optimize their operations and get the most out of their scheduling processes.
Customization at Your Fingertips
Acuity Scheduling doesn't just provide scheduling capabilities – it offers a way for businesses to personalize their scheduling process. With extensive customization options, businesses can tweak everything from appointment types and intake forms to email reminders to align with their specific requirements.

If you would like to know more, we have written an in-depth review of Acuity Scheduling software here.
YouCanBook.me is a tool that bridges the gap between businesses and customers, designed with simplicity and efficiency at its core. Pricing begins at $10 per calendar/month.
Highly Customizable Booking Pages
YouCanBook.me sets itself apart by offering highly customizable booking pages. Businesses can create bespoke booking pages that not only look appealing but also resonate with their brand, encouraging more clients to schedule appointments. In this review of Youcanbookme, we have gone in-depth and reviewed the Youcanbookme.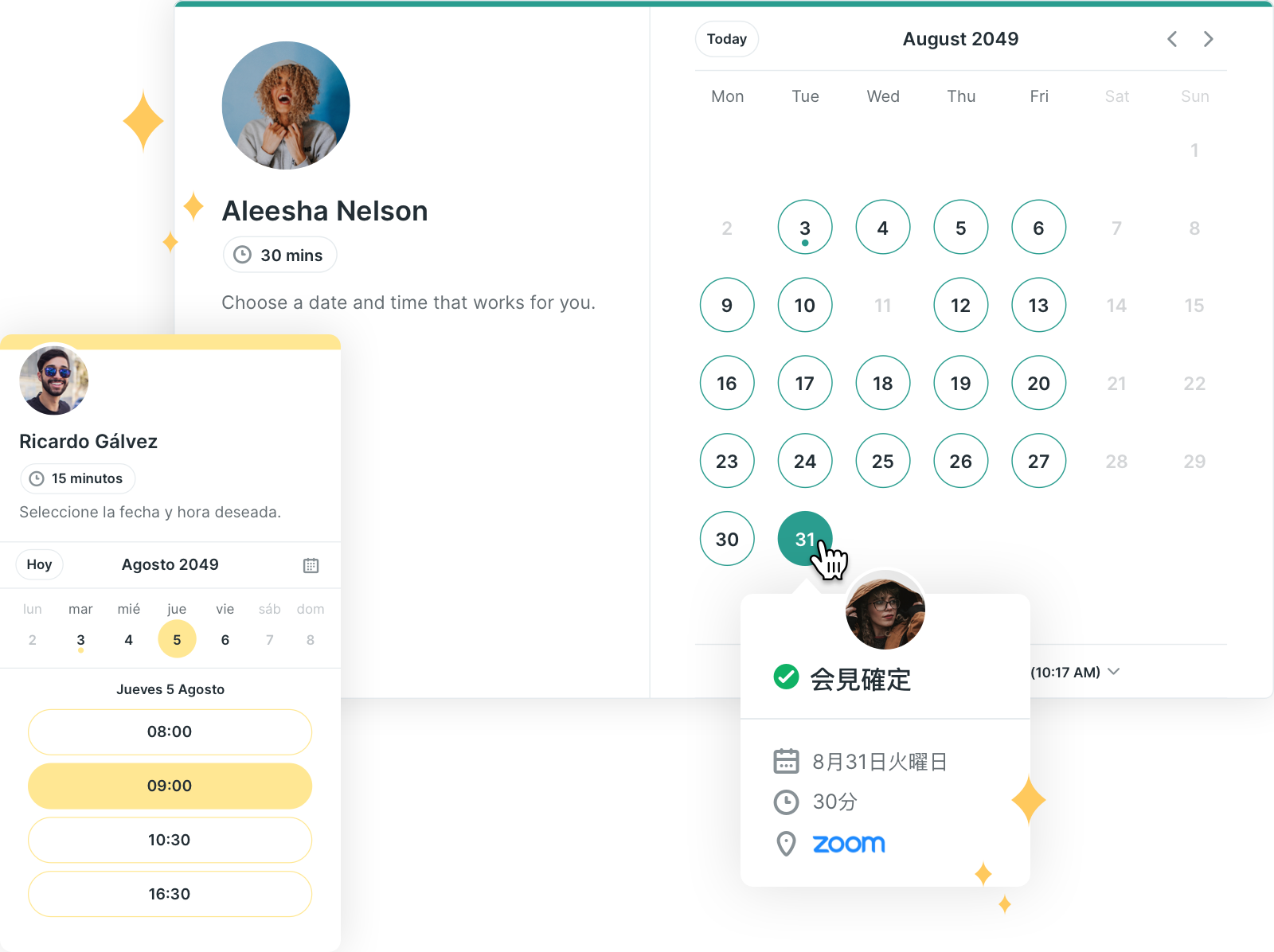 Hassle-free Automated Follow-ups
YouCanBook.me simplifies one of the most critical aspects of appointment scheduling – follow-ups. By automating this process, businesses can ensure that their clients remain engaged and informed, all while freeing up time and resources.
Versatile Scheduling Options for Every Need
No two businesses are alike, and YouCanBook.me understands this perfectly. The platform offers a broad spectrum
of scheduling options, including group bookings, round-robin, and sequential scheduling. This versatility caters to the diverse needs of businesses, offering a flexible and adaptable scheduling solution.
Appointlet stands out with its clean interface and a suite of potent features, all aiming to simplify and streamline your business operations. This platform is priced at $8/user/month, providing an affordable solution for businesses of all sizes.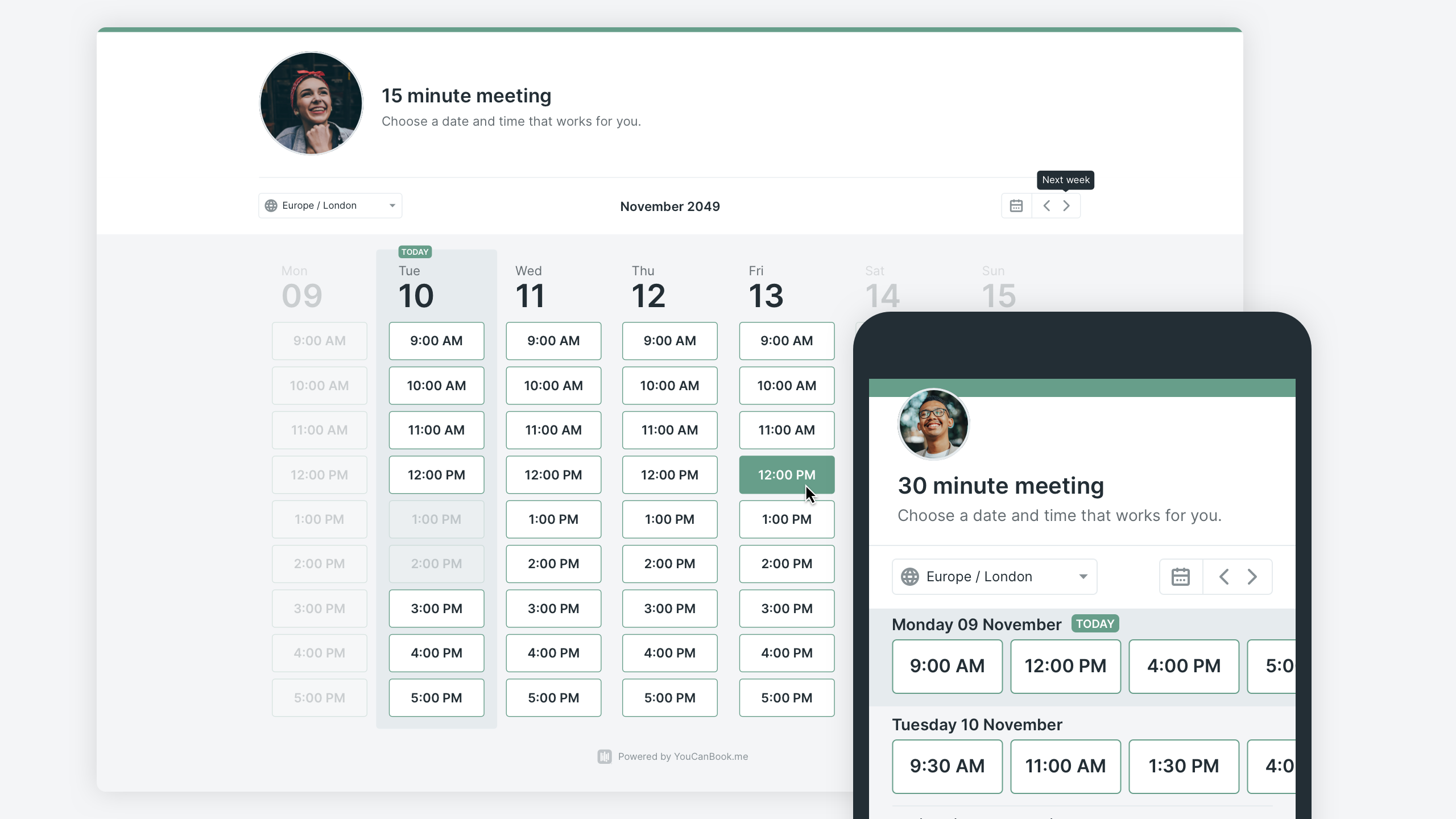 Smooth and Uninterrupted Booking Experience
Appointlet has simplified the booking process to an extent that clients can schedule appointments without creating an account. This intuitive feature offers a smooth and uninterrupted booking experience, enhancing client satisfaction and encouraging repeat bookings.
Break Language Barriers with Multilingual Support
Appointlet's multilingual support enables businesses to reach a broader audience. By breaking language barriers, the platform ensures that businesses can effectively cater to clients from diverse linguistic backgrounds, improving the overall customer experience.
Gain Insights with Data-Driven Reports
In the age of data, Appointlet provides insightful reports that shed light on your scheduling patterns. These data-driven insights can help improve operational efficiency, optimize resource allocation, and enhance your overall scheduling process.
Setmore aims to empower businesses by offering a complete scheduling solution loaded with robust features. The platform supports a variety of platforms and offers a free tier, with premium plans starting at $12/user/month.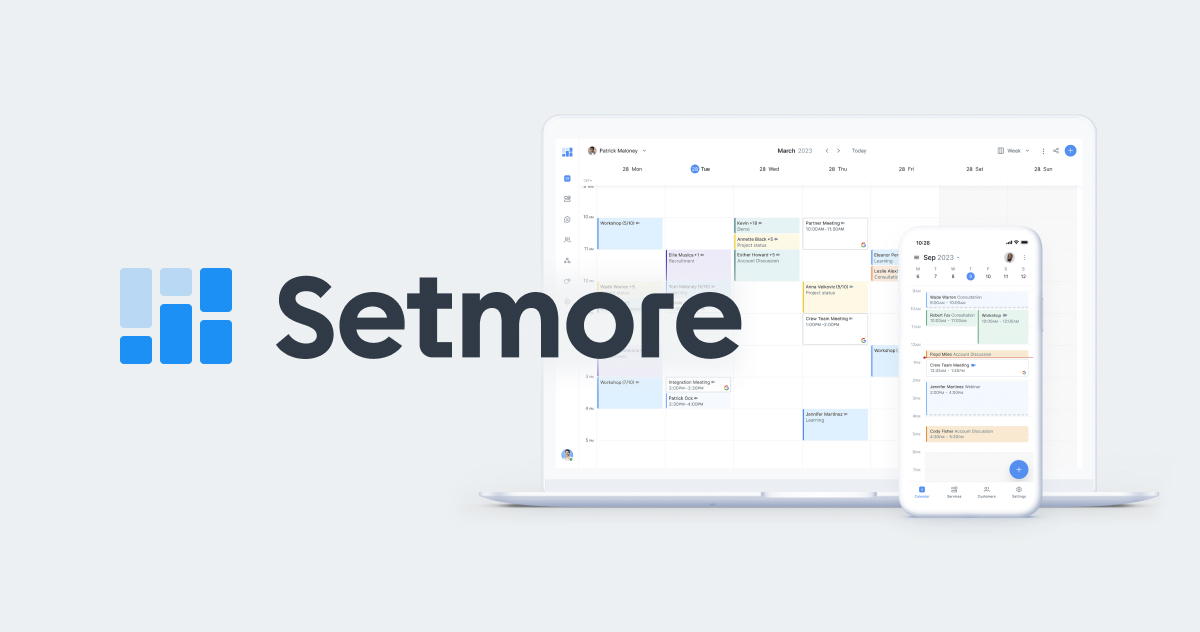 Ultimate Cross-Platform Accessibility
With Setmore, accessibility is a given. Whether you're operating from a desktop, smartphone, or tablet, Setmore has you covered. Its cross-platform support, including web, iOS, and Android applications, ensures that you can manage your scheduling process anytime, anywhere.
Integrated Payment Solution
Setmore eliminates the need for separate payment gateways by offering an integrated solution. Clients can make payments directly during the booking process, making it a convenient and time-saving option.
Stay Informed with an Interactive Dashboard
Setmore's interactive dashboard provides real-time updates on your bookings, helping you stay on top of your appointments. This feature ensures that you're always informed and can make timely decisions based on the latest data.
In conclusion, while Calendly continues to be a robust scheduling tool, alternatives like Weezly, Acuity Scheduling, YouCanBook.me, Appointlet, and Setmore each bring their unique blend of features to the table. Selecting the optimal appointment scheduling platform will significantly depend on your business's unique needs and the unique value proposition each platform offers.
Understanding the strengths and features of each tool can help you make an informed decision, ensuring your chosen platform aligns perfectly with your business operations. As the digital landscape continues to evolve, these platforms are set to redefine appointment scheduling, providing businesses with tools that are not only functional but also add value to their operations.
If you would like to read an in-depth review of Setmore, you can see our article here.
Doodle offers a uniquely interactive approach to scheduling, making it an excellent alternative to Calendly. This platform is accessible to individuals and businesses alike, with plans starting at $4.49/month.
Collaboration-Focused Features
Doodle stands out with its collaborative features that allow users to vote on the best times for meetings. This group decision-making approach reduces back-and-forth communication and fosters a more efficient scheduling process.
Sync Across Multiple Calendars
Doodle allows users to synchronize their schedules across multiple calendars. Whether you use Google Calendar, Office 365, or iCloud, Doodle ensures all your appointments are updated across all platforms.
Easy-to-Use Polling System
Doodle's polling system is simple and user-friendly. By allowing potential attendees to select their preferred times, the platform ensures a more convenient and satisfactory scheduling experience.
Engageware is a dynamic and intelligent online appointment scheduling platform that helps businesses deliver personalized experiences. The platform's pricing starts from $6.50/user/month.
AI-Driven Insights
Engageware leverages AI to provide valuable insights that help businesses optimize their scheduling processes. By understanding patterns and trends, businesses can improve their operations and enhance customer satisfaction.
Scalable Solution for Large Enterprises
Engageware offers a scalable solution that caters to large enterprises. Whether it's accommodating multiple departments, locations, or large teams, TimeTrade can handle it all.
Real-Time Personalization
Engageware offers real-time personalization, ensuring a unique and personalized scheduling experience for each customer. This attention to detail enhances customer engagement and boosts satisfaction rates.
In conclusion, the marketplace is teeming with alternatives to Calendly, each boasting distinctive features, and benefits. Whether it's Weezly's innovative video alternative feature, Acuity Scheduling's comprehensive time zone support, YouCanBook.me's automated follow-ups, Appointlet's smooth booking experience, Setmore's cross-platform support, ScheduleOnce's direct integrations, Doodle's collaborative approach, or Engageware 's AI-driven insights, these platforms offer diverse and compelling reasons to consider them.
Choosing the right tool requires a deep understanding of your business needs and the unique value proposition each platform brings to the table. By taking a comprehensive look at these alternatives to Calendly, businesses can make a well-informed decision that significantly impacts their appointment scheduling processes. As we continue to navigate the evolving digital landscape, these platforms represent the future of appointment scheduling, empowering businesses to deliver enhanced customer experiences, boost efficiency, and drive growth.
SimplyBook.me is a comprehensive booking solution that allows businesses to manage appointments, accept payments, and communicate with clients all in one place. Prices for this multi-featured platform start at $9.90/month.
Sophisticated Booking Website
One of SimplyBook.me's most powerful features is its fully customizable booking website. With an extensive range of design options, businesses can create a booking site that's not only visually appealing but also closely aligns with their brand identity.
Secure Online Payments
SimplyBook.me offers secure online payment functionality, allowing businesses to accept payments directly from the booking interface. This streamlined payment process offers clients a seamless and secure booking experience.
Efficient Client Communication
Through its integrated messaging system, SimplyBook.me facilitates efficient communication between businesses and their clients. This system allows for timely notifications, reminders, and promotional messages, ensuring clients are always in the loop.
SuperSaaS delivers a flexible and customizable scheduling solution that can accommodate businesses of all sizes. This powerful tool is also budget-friendly, with prices starting as low as $8/month.
Unprecedented Flexibility
SuperSaaS shines with its unprecedented flexibility, allowing users to customize nearly every aspect of their booking process. From defining booking rules to customizing forms and schedules, SuperSaaS gives businesses total control over their booking processes.
Multilanguage Support
With its extensive multilanguage support, SuperSaaS helps businesses connect with a global audience. This feature breaks down language barriers and enables businesses to offer a user-friendly booking experience to clients worldwide.
Real-Time Availability
SuperSaaS ensures that clients always have the most current information by displaying real-time availability. This eliminates double bookings and reduces the chances of miscommunication, leading to a smoother booking process.
In the ever-evolving digital landscape, these powerful platforms are redefining what effective appointment scheduling looks like. Whether it's the innovative video alternative feature from Weezly, the robust third-party integration of Acuity Scheduling, the automated follow-ups from YouCanBook.me, the smooth booking experience of Appointlet, the cross-platform support of Setmore, the direct integrations of ScheduleOnce, the collaborative features of Doodle, the AI-driven insights from TimeTrade, the all-in-one solution from SimplyBook.me, or the flexible and customizable options from SuperSaaS, these tools have carved out a unique space in the appointment scheduling market.
Choosing the right tool, therefore, involves identifying the specific needs of your business and assessing how the unique value proposition of each platform aligns with those needs. By making a well-informed decision, businesses can revolutionize their appointment scheduling processes, driving efficiency, enhancing customer experiences, and fostering growth. As we look ahead, these tools are setting the stage for the future of appointment scheduling, offering innovative solutions that are poised to transform the business landscape.
Meetingbird is a versatile scheduling platform that aims to streamline the way you handle your meetings and appointments. This tool integrates directly with your existing workflow, and while it offers a free tier, premium plans start from $9/user/month.
Seamless Integration with Popular Tools
Meetingbird's strength lies in its compatibility with popular productivity tools such as Gmail, Google Calendar, Zoom, and Slack. This seamless integration makes it easy to schedule, manage, and coordinate meetings without leaving your preferred environment.
Convenient Time Zone Handling
In our increasingly globalized world, Meetingbird's automatic time zone conversion comes as a significant advantage. This feature simplifies scheduling across different time zones, preventing confusion and ensuring that everyone arrives at the meeting on time.
Advanced Customization Features
With Meetingbird, you have the power to tailor your scheduling experience. The platform's advanced customization features let you personalize your scheduling page, create custom form questions, set up appointment buffers, and more, giving you full control over your booking process.
Pick simplifies the process of scheduling by offering an intuitive platform that integrates with your existing calendars. Offering a free basic plan, Pick's premium options start from $20/month, providing a scalable solution for businesses of all sizes.
Integrations with Popular Calendar Apps
Pick smoothly integrates with popular calendar applications such as Google Calendar, Apple Calendar, and Office 365. This seamless integration makes it easy for users to schedule, manage, and update appointments without leaving their preferred platform.
Streamlined Group Scheduling
Pick's group scheduling feature simplifies the process of coordinating meetings with multiple participants. By allowing all participants to share their availability, Pick ensures a convenient and efficient scheduling process that respects everyone's time.
Mobile Access for Scheduling on the Go
With Pick's mobile application, you can manage your scheduling activities on the go. This feature allows users to schedule, modify, and monitor their appointments anytime, anywhere, providing ultimate convenience and flexibility.
Harmonizely provides a robust scheduling solution that is designed to work in harmony with your business needs. With pricing plans starting from $10/month, it provides an affordable scheduling solution for businesses across industries.
Robust Integration Capabilities
Harmonizely's strength lies in its robust integration capabilities. The platform integrates with various calendar services, including Google Calendar, Office 365, Outlook.com, Fastmail, Zimbra, and more, providing a unified scheduling solution.
Multiple Meeting Types
Harmonizely supports multiple meeting types, from one-on-one meetings to group meetings and round-robin meetings. This versatility makes it suitable for a variety of scheduling scenarios, ensuring that it can cater to diverse business needs.
Automated Email Notifications and Reminders
Harmonizely offers automated email notifications and reminders, ensuring that both businesses and their clients are always up-to-date about their appointments. This feature improves communication, reduces no-shows, and enhances the overall scheduling experience.
In the dynamic digital landscape, appointment scheduling tools continue to evolve, offering a range of powerful features designed to enhance efficiency, improve customer experience, and streamline operations. Whether it's the innovative video alternative feature of Weezly, the AI-powered scheduling assistant of X.ai, or the robust integration capabilities of Harmonizely, businesses are spoilt for choice when it comes to selecting a scheduling tool.
Choosing the right tool requires a thorough understanding of your business needs and an assessment of how each platform can meet these needs. By making an informed decision, businesses can revolutionize their appointment scheduling processes, boosting productivity, improving customer satisfaction, and driving growth. As we navigate the future of appointment scheduling, these tools stand at the forefront, offering innovative and effective solutions that are poised to reshape the business landscape.
Clara, a virtual employee powered by artificial intelligence, simplifies scheduling by managing your calendar, meetings, and appointments. Its pricing starts at $99/month, making it a premium choice for businesses seeking an AI-driven scheduling solution.
AI-Powered Personal Assistant
Clara's standout feature is its AI-driven personal assistant that handles all scheduling-related tasks. The assistant can schedule meetings, send out calendar invites, manage rescheduling requests, and ensure that your calendar is always up to date.
Email Integration for Seamless Communication
Clara integrates directly with your email, communicating with clients, colleagues, and partners to schedule and manage meetings. This seamless integration results in a streamlined scheduling process and reduces the risk of miscommunication.
Customizable Preferences
Clara's AI assistant learns from your preferences and schedules meetings accordingly. Whether it's preferred meeting times, duration, or location, Clara tailors the scheduling process to your needs, providing a personalized experience.
Cogsworth is a smart scheduling platform that works around your business hours, making your time valuable. Its prices start from $9/month, providing a cost-effective solution for businesses.
Smart Forms for Detailed Information
Cogsworth stands out with its smart forms that capture all the necessary information from clients during the booking process. These forms can be customized to match your business needs, ensuring that you have all the details you need for each appointment.
Multi-Language and Multi-Currency Support
Cogsworth's multi-language and multi-currency support make it a globally-friendly scheduling tool. This feature ensures a smooth booking experience for international clients and expands your business reach.
Integration with Popular Business Tools
Cogsworth integrates with popular business tools such as Google Calendar, Office 365, and Outlook. This integration simplifies the scheduling process by updating your calendars automatically whenever a booking is made or changed.
The digital landscape of appointment scheduling is continually evolving, with new tools offering innovative features to enhance efficiency and improve the scheduling experience. From Weezly's groundbreaking video alternative feature to Clara's AI-driven personal assistant and Cogsworth's smart forms, these tools provide a wide range of options for businesses seeking to optimize their scheduling processes.
Selecting the right tool involves understanding your specific business needs and determining how each platform's unique features align with these needs. By making an informed decision, businesses can significantly improve their scheduling processes, leading to increased productivity, enhanced customer experiences, and business growth. As we move forward, these tools represent the future of appointment scheduling, offering innovative solutions that are set to redefine the business landscape.
Calendly is a versatile scheduling tool designed to simplify the process of arranging meetings. Offering a free basic plan and premium options starting at $8/user/month, it caters to businesses of all sizes and sectors.
User-friendly Interface
Calendly's user-friendly interface makes it a popular choice amongst businesses. The intuitive design allows for straightforward scheduling and management of appointments, providing a smooth user experience for both businesses and their clients.
Robust Integrations
Calendly offers robust integrations with popular calendar apps and virtual meeting platforms such as Google Calendar, Office 365, Outlook, Zoom, and Microsoft Teams. This seamless integration ensures that your schedule is always up-to-date, reducing the risk of double bookings and missed appointments.
Flexible Meeting Options
Calendly supports a variety of meeting types, including one-on-one meetings, group meetings, and collective meetings. This flexibility allows businesses to tailor their scheduling process to their specific needs, making it a versatile tool suitable for a range of scenarios.
Bookafy, with pricing starting at $7/user/month, is a powerful scheduling platform that offers a wide range of features designed to empower businesses and streamline their appointment booking process.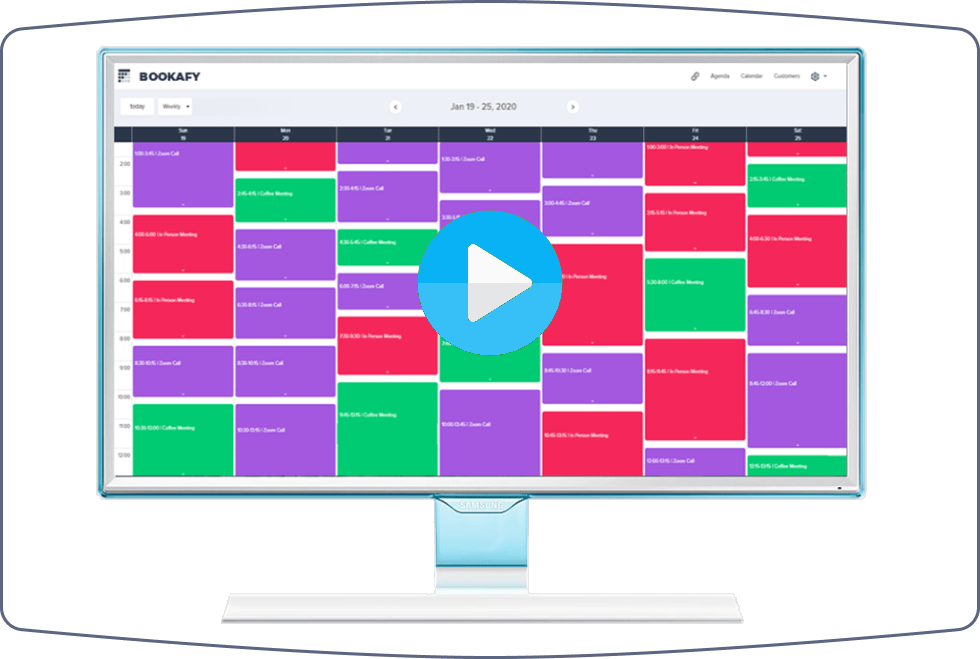 Customizable Booking Page
Bookafy provides a customizable booking page where businesses can showcase their brand, provide service information, and display staff availability. This feature allows businesses to offer a personalized booking experience to their clients.
Auto Time-Zone Detection
In today's globalized business environment, dealing with time zones can be a challenge. Bookafy simplifies this by automatically detecting and adjusting to the client's time zone, ensuring a seamless booking experience for international clients.
Efficient Client Communication
Bookafy's integrated communication system sends automatic confirmation and reminder messages to clients. This feature ensures timely communication, reduces no-shows, and enhances the overall scheduling experience.
As the digital landscape continues to evolve, so do the tools available for appointment scheduling. With unique and innovative features, from the video alternative feature of Weezly to the AI-driven personal assistant of Clara, and the customizable booking page of Bookafy, businesses now have an array of options to streamline their scheduling process.
Choosing the right tool involves a thorough understanding of your business's specific needs and assessing how each platform can meet these needs. By making a well-informed decision, businesses can revolutionize their appointment scheduling processes, driving productivity, improving customer satisfaction, and fostering growth. These platforms represent the future of appointment scheduling, offering innovative and effective solutions that are set to shape the business world.
OnceHub offers tailored scheduling solutions designed to meet the unique needs of businesses across different industries. Its pricing starts from $9/user/month, providing an affordable yet powerful scheduling tool.
Synced Across Multiple Calendars
OnceHub stands out for its ability to synchronize appointments across multiple calendars, ensuring you're always on top of your schedule. The platform supports integration with popular calendar apps, making it a versatile choice for managing your appointments.
Customizable Booking Page
With OnceHub, businesses have the freedom to customize their booking page. From layout to branding, OnceHub provides various customization options that allow businesses to create a unique and personalized booking experience for their clients.
Dynamic Availability Rules
OnceHub's dynamic availability rules allow businesses to control when they're available for appointments. This feature provides flexibility and ensures a balanced and manageable schedule.
Vyte is a high-end scheduling tool that combines functionality and elegance. Its pricing starts from $8/user/month, offering a blend of sophisticated features and a sleek design.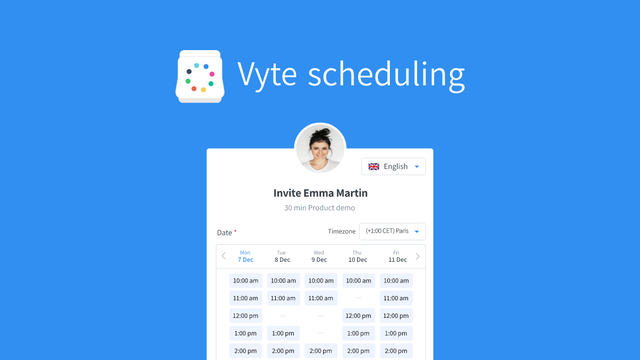 Schedule Meetings Without Emails
Vyte's standout feature is the ability to schedule meetings without the back-and-forth of emails. Users can simply share their availability, and invitees can pick a time that works best for them, creating an efficient and streamlined scheduling process.
Multiple Meeting Types
Vyte supports one-on-one meetings, group meetings, and event scheduling, catering to a variety of scheduling needs. This feature makes Vyte a versatile tool suitable for different business scenarios.
Sleek, User-friendly Interface
Vyte offers a sleek, user-friendly interface that makes scheduling a breeze. The intuitive design and smooth navigation ensure a pleasant user experience, enhancing the overall scheduling process.
Why Weezly Outshines the Competition
Having explored a variety of appointment scheduling tools, we return to our primary contender: Weezly. The platform brings together an assortment of high-quality features that makes it not just a viable alternative to other scheduling tools, but a leader in the field.
Weezly's edge begins with its unique video alternative feature, designed to boost conversion rates and secure more meetings. While other tools may integrate with video conferencing platforms, none of them incorporate a video alternative into the invitation itself. This standout feature breaks down barriers, immediately engage invitees and provides a dynamic alternative to the traditional scheduling invitation.
Moreover, Weezly's rich feature set and easy integration with popular calendar applications ensure a seamless scheduling experience. It also offers automated email notifications and reminders to keep all parties informed and engaged, reducing the likelihood of missed appointments.
In terms of pricing, Weezly emerges as an economical choice with its lifetime deal starting from $49. This offering stands in contrast to many alternatives, which often operate on monthly subscriptions, making Weezly a cost-effective solution for businesses aiming for budget optimization.
Considering the overall versatility, affordability, and innovative offerings of Weezly, it's clear why it holds a competitive edge in the scheduling space. By striking a balance between cutting-edge features and user-friendly functionality, Weezly presents itself as a comprehensive scheduling solution that outshines its competitors.
As we navigate the continually evolving landscape of appointment scheduling, Weezly is setting the pace, providing businesses with innovative solutions designed to enhance efficiency, boost productivity, and deliver a superior scheduling experience. Its unique combination of features is not only redefining the boundaries of what a scheduling tool can do but also illustrating how businesses can leverage technology to achieve operational excellence.