In today's digital age, screen recording has become an essential tool for a wide range of purposes, from creating educational content and tutorials to capturing software demonstrations and remote collaboration. With a plethora of screen recording tools available, it can be challenging to choose the right one for your specific needs. To help you make an informed decision, we've compiled a list of the top 10 screen recording tools that offer a variety of features to suit your requirements.
The List of the 10 Best Screen Recording Tools
1. Weezly – The All-in-One Solution
Now, let's introduce Weezly, the revolutionary all-in-one solution that combines the features of two beloved products: Calendly and Loom. This innovative tool offers scheduling and screen recording in a seamless, integrated platform. Here's how Weezly can enhance your screen recording experience:
Seamless Screen Recording: Weezly offers Loom-like screen recording capabilities, allowing you to capture your screen, webcam, or both. Create instructional videos, tutorials, and presentations effortlessly.
Effortless Scheduling: Weezly integrates the scheduling simplicity of Calendly, allowing you to set up appointments and meetings with ease. Share your availability with a click, and let others book time slots that work for them.
Combining Scheduling and Recording: With Weezly, you can schedule meetings and record them all in one platform. This is a time-saving feature that streamlines your workflow.
Direct Sharing: Share your scheduled meetings and recordings with colleagues, clients, or students, all within the same interface. There is no need to jump between different tools.
Cross-Platform Compatibility: Weezly is designed to work across various platforms, making it accessible to a wide range of users.
TRY Weezly NOW! 👇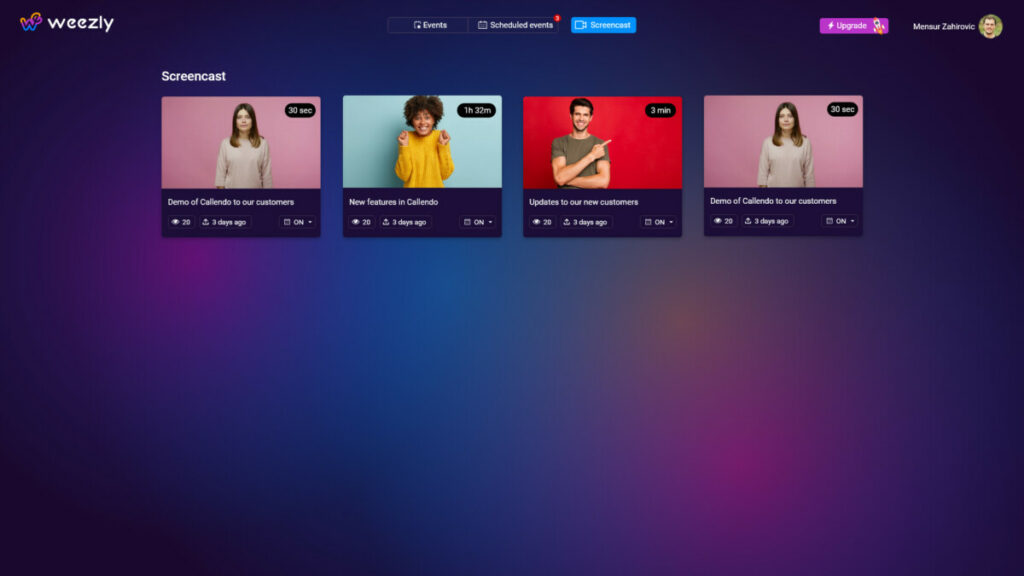 2. OBS Studio
Open Broadcaster Software (OBS) Studio is an open-source, free screen recording and live streaming software. It is a go-to choice for gamers, streamers, and content creators. OBS Studio offers a wide array of features, including multiple video sources, scene transitions, and live streaming capabilities. It's a powerful tool, but it may be overwhelming for beginners.
Key Features:
Real-time screen and audio capture
Scene composition for professional-looking recordings
High customizability with plugins and themes
Cross-platform compatibility (Windows, macOS, and Linux)
3. ScreenPal (Screencast-O-Matic)
Screencast-O-Matic is a user-friendly, web-based screen recording tool that allows you to record and edit your screen with ease. It offers both free and premium versions, making it accessible to a wide range of users. With its intuitive interface, you can quickly capture your screen, webcam, or both simultaneously.
Key Features:
In-browser screen recording
Video editing tools for trimming and adding overlays
Sharing options, including direct uploads to YouTube
Cross-platform compatibility (Windows, macOS, and Chromebook)
4. Camtasia
Camtasia is a comprehensive screen recording and video editing software developed by TechSmith. It's ideal for professionals and educators who need to create high-quality video content. Camtasia offers advanced editing tools and is known for its robust feature set.
Key Features:
Professional video editing and effects
Multi-track timeline for precise editing
Audio and video enhancements
Direct sharing options to multiple platforms
5. Snagit
Also developed by TechSmith, Snagit is a more lightweight and focused alternative to Camtasia. It's designed for quick and easy screen capture with basic editing features. Snagit is great for creating documentation, tutorials, and visual content.
Key Features:
Simplified screen capture and image editing
Customizable templates for consistent documentation
Integration with cloud platforms for easy sharing
6. ScreenFlow
ScreenFlow is a popular screen recording and video editing tool for macOS users. It's known for its intuitive interface and professional-grade editing capabilities. Whether you're a content creator or educator, ScreenFlow has you covered.
Key Features:
High-quality screen and audio capture
Advanced video editing with animations and effects
iOS screen recording support
Direct export to various platforms
7. ScreenRec
ScreenRec is a lightweight screen recording tool for Windows. It offers simple and quick screen capture, making it ideal for those who need to record and share their screens on the fly. ScreenRec also provides cloud storage for your recordings.
Key Features:
Instant screen capture with a hotkey
Easy sharing and cloud storage
Simple annotation tools
Cross-platform playback of recorded videos
8. Bandicam
Bandicam is a screen recording and game recording software that's well-suited for gamers and professionals alike. It offers high-quality video capture with minimal impact on system performance. Bandicam also supports real-time drawing during recording.
Key Features:
High-compression video recording
Real-time drawing tools
Gaming mode for optimized recording
Scheduled recording and auto-complete
9. Icecream Screen Recorder
Icecream Screen Recorder is a versatile tool that allows you to capture any area of your screen as well as your webcam. It offers various modes, including full-screen, custom area, and scheduled recording. Additionally, it provides basic editing tools.
Key Features:
Multiple recording modes
Annotation and drawing tools
Webcam recording
Scheduled recording and auto-complete
10. ShareX
ShareX is an open-source screen capture and screen recording tool that's packed with features. It's more than just a screen recorder; it also offers powerful screenshot and image editing capabilities. ShareX is an excellent choice for tech-savvy users.
Key Features:
Versatile screen capture and recording options
Advanced image editing tools
Customizable workflows with automation
Extensive sharing options and cloud integration
Conclusion
Choosing the right screen recording tool can greatly impact your productivity and the quality of content you create. Whether you're a gamer, educator, professional, or content creator, there's a screen recording tool that suits your needs. With the emergence of Weezly, which combines the scheduling convenience of Calendly and the screen recording power of Loom, you can now enjoy the best of both worlds in one integrated platform.
We hope this comprehensive guide has helped you understand the various screen recording tools available and their key features. The choice ultimately depends on your specific requirements, level of expertise, and budget. Experiment with a few options to find the one that suits you best, and start creating engaging and informative content easily. Happy recording!
Do you want to try Weezly and enhance productivity? Do it now – sign up here!