Have you ever thought of the one thing that could save you from sending back-and-forth emails while trying to secure a meeting time? Yes, it is none other than an 'availability sheet,' which serves as an automated assistant for your scheduling needs. It can effectively help streamline the process of finding suitable times to meet with colleagues, clients, or third parties.
In this article, we will take a closer look at how you can create an availability sheet. Let's see.
What is An Availability Sheet?
We've all experienced the frustrating deluge of emails when trying to coordinate schedules. The solution to this often arduous task lies in keeping one's 'availability' visible to others via a tool known colloquially as an 'availability sheet'.
This term typically refers to a shared online calendar providing visibility into free slots within our busy lives. Offering direct insight into possible times of meetings without involved parties manually comparing individual calendars saves copious amounts of time.
Some popular platforms, such as Weezly, Calendly, Semore, and others, are well-equipped to execute these functions. However, picking the best among them requires understanding your specific requirements.
In other words, availability sheets, in their most basic form, are spreadsheets or documents listing out the available times of a person or resource. They can be daily, weekly, monthly, or even yearly. Here's what a simple one might look like:
Monday: 9 am – 5 pm
Tuesday: 10 am – 6 pm
Wednesday: 9 am – 3 pm
…and so on.
However, modern availability sheets have evolved beyond just listing times. They can now incorporate:
Shift preferences: Some employees might prefer morning shifts, while others might be night owls.
Vacation days: Indicates when an employee is on vacation.
Public holidays: Marks public holidays when the business might be closed.
Benefits of Using Availability Sheets
Streamlined Scheduling: No more double bookings or clashes in scheduling. Everything is laid out clearly.
Improved Transparency: Everyone knows when everyone else is available, fostering an environment of clarity.
Resource Optimization: Resources can be allocated efficiently based on their availability.
Reduced Confusion: With everyone's availability at your fingertips, there's less room for misunderstandings.
How to Create an Availability Sheet: A Step-by-step Guide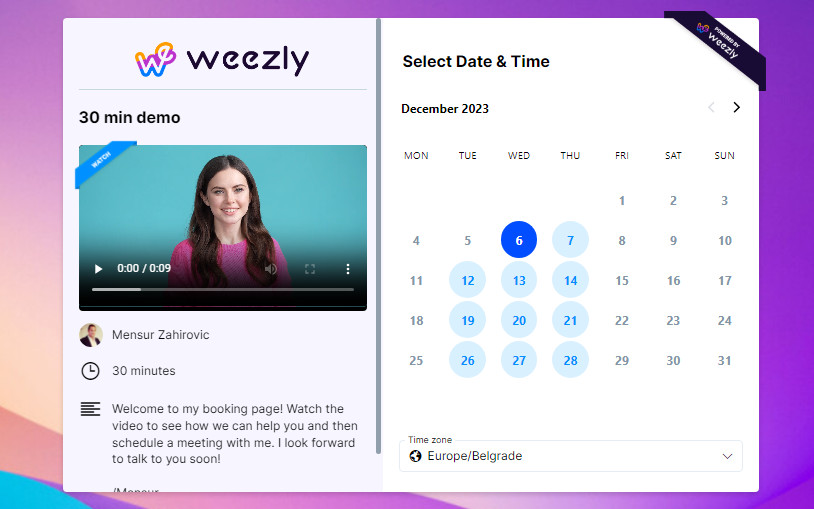 Creating an availability sheet can vary depending on the platform you decide upon. Yet, there are some common steps:
1. Select Your Preferred Online Scheduling Tool
There are numerous online schedulers out there, including Weezly, Calendly, Setmore, SuperSaaS, Engageware, and Simplybook.me, to name just a few. Choose one based on its features, user interface, integrations, pricing structure, customer support, and reviews. If you already have a preferred tool, feel free to skip to Step 2.
2. Set Up Your Profile
After choosing your scheduler, sign up using your email ID and follow the prompts to complete your profile setup. Be sure to integrate your preferred personal calendar system (e.g., Google Calendar, iCalendar, Outlook) so that your scheduler can automatically detect and prevent schedule conflicts.
3. Input Your Schedule Parameters
Now comes the most important part—inputting your availability. Base this off of your typical weekly work schedule, being careful to block out lunch breaks, standing meetings, and other recurring daily activities. Don't include hours where you'd prefer not to schedule meetings unless necessary.
4. Share Your Availability Sheet
Now that your availability has been inputted, you'll want to share access with those who need to know when they can schedule meetings with you. Look for a shareable link or embeddable widget function in your chosen scheduler-it would generally be located somewhere prominent in navigation menus or settings/layout customization areas.
In addition, Weezly has developed a QR code for appointment booking that allows you to share your availability in different places.
5. Manage/Edit/Update Your Availability
Routine maintenance helps make the most out of your availability sheet. Update changes with dates, holidays, travel plans, or vacation days regularly. Efficient management can, thus, help reduce the number of conflicts in your schedule even further.
6. Automate Reminders & Follow-Ups
One overlooked aspect of appointment-setting automation is reminders and follow-ups. Most tools provide this service and offer flexible configurations according to individuals' preferences. Utilizing them reduces no-show appointments and ensures smooth coordination.
And voila! Just like that, you'd have created your first-ever digital availability sheet. To quickly grasp these steps, consider incorporating a scheduling assistant into your regimen. Among other things, they ensure that your bookings do not lead to conflicts in your schedule.
Tips for Maintaining Your Availability Sheet
Regular Updates: Availability can change. Make sure the sheet is updated regularly to reflect these changes.
Use Color Coding: Colors like red for unavailable and green for available can make your sheet more intuitive.
Archive Old Sheets: Don't delete old availability sheets. Archive them. They might provide useful data later.
Seek Feedback: Regularly ask your team for feedback on the process. They might have suggestions for improvement.
Wrapping Up
An availability sheet is crucial for both business and personal realms. With the right strategies, tools, and mindset, anyone can master the art of efficient scheduling, thereby fostering a smoothly functioning operational framework!
Remember to always choose a tool that emphasizes user-friendly experience, and comprehensive functionality that integrates seamlessly with existing systems, and provides excellent customer support. Don't shy away from taking trials of potential candidates and settle only after a thorough evaluating between options.
Properly managed availability sheets can make the difference between a smoothly running operation and a logistical nightmare. With platforms like Weezly, the process has never been easier.