In the digital era, staying organized while also keeping up with the myriad of virtual meetings, calls, and events can be a daunting task. Most professionals have become reliant on various tools to keep their schedules straight and ensure they're connected with colleagues or clients. Explore Weezly, an innovative product that merges the capabilities of Calendly and Loom, promising to revolutionize the way we manage and communicate in the virtual space. So, let's explore why and how you can combine video with calendar.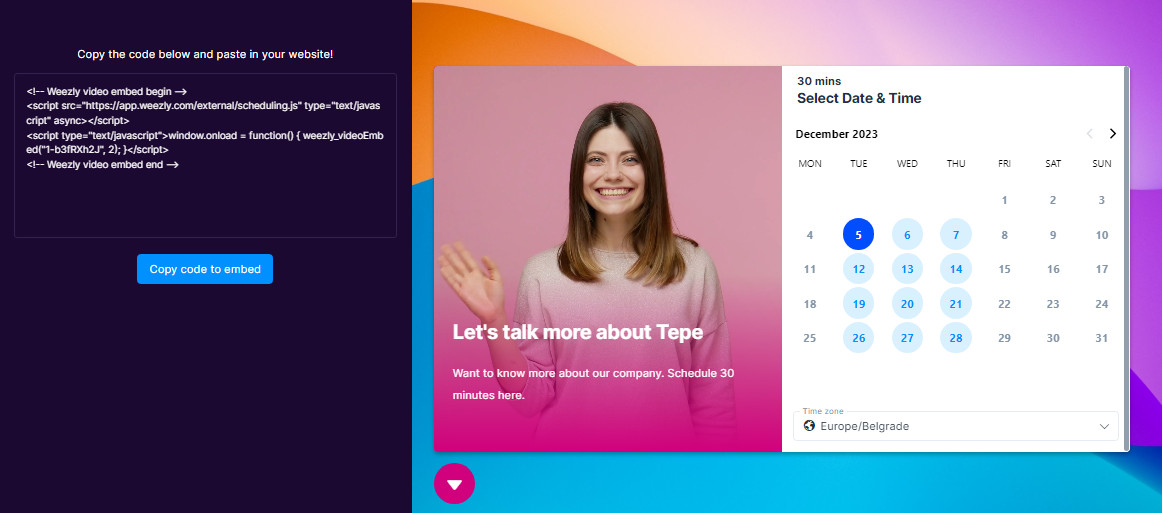 A Brief History of Video and Calendar Integration
Before we delve into the nitty-gritty of Weezly, let's take a walk down memory lane to see how the integration of video and calendar tools evolved:
The Birth of Digital Calendars: It all began with the creation of digital calendars, which eliminated the need for physical planners and streamlined appointment settings. Tools like Google Calendar became household names.
The Video Revolution: With the increasing need for virtual communication, platforms like Skype, Zoom, and Loom offered users the ability to connect visually, transcending geographical boundaries.
Scheduling Made Easy: Tools like Calendly took calendar management to the next level by allowing users to share their availability and easily schedule meetings without the dreaded back-and-forth emails.
However, the true magic began when these two realms – video and calendar – started to merge, leading to seamless video communication combined with effortless scheduling.
Why Combine Video and Calendar?
Merging video and calendar tools offers numerous advantages:
Efficiency: Eliminate the need to jump between multiple platforms. Have everything in one place.
Consistency: Ensure that video calls are automatically scheduled and reminders are set.
Professionalism: Showcase a unified platform to clients, giving a more professional impression.
Simplicity: Reduce the cognitive load of managing various tools and streamline work processes.
Weezly: The Best of Both Worlds
Weezly is not just another tool in the digital arsenal; it's a game-changer. Here's what makes it unique:
Integrated Video Features: Drawing from the best of Loom, Weezly allows users to record, share, and store videos effortlessly.
Smart Scheduling: Borrowing from Calendly's genius, Weezly provides an intuitive interface to share availability and schedule meetings without the fuss.
Why Weezly is the Best Loom Alternative
For those familiar with Loom, the question might arise: why switch? Here are compelling reasons:
Unified Platform: You're not just getting a video tool. You're getting an all-in-one solution that integrates video and calendar functionalities.
Enhanced Features: Apart from the regular features found in Loom, Weezly offers advanced capabilities, tailored to the needs of modern professionals.
Cost-Effective: Instead of juggling between paying for a video platform and a scheduling tool, invest in a comprehensive solution.
Key Features of Weezly
Let's break down what Weezly brings to the table:
Video Recording & Sharing: Create and share videos with the click of a button.
Automated Scheduling: Share your availability link, and let others pick a slot that suits them.
Integrated Calendar Views: View all your scheduled appointments, video calls, and reminders in one unified view.
Custom Branding: Personalize your scheduling and video interface with your branding.
Integrations: Easily integrate Weezly with other tools you might be using, enhancing its capabilities.
In Conclusion
In the fast-paced digital age, tools that simplify and streamline processes are gold. Weezly, with its impeccable fusion of Calendly and Loom, stands out as a tool that professionals shouldn't miss out on. It's not just about video or schedule; it's about optimizing the way we work and communicate.
So, whether you're a freelancer looking to improve client communication, a business aiming to streamline internal processes, or just someone looking for a better way to manage virtual interactions, get Weezly now and witness the revolution!