Choosing the right scheduling software plays a crucial role in managing your daily tasks, appointments, and professional affairs. Today, we'll focus on two powerful platforms: Weezly vs Engageware, assessing their features, benefits, drawbacks, and alternatives.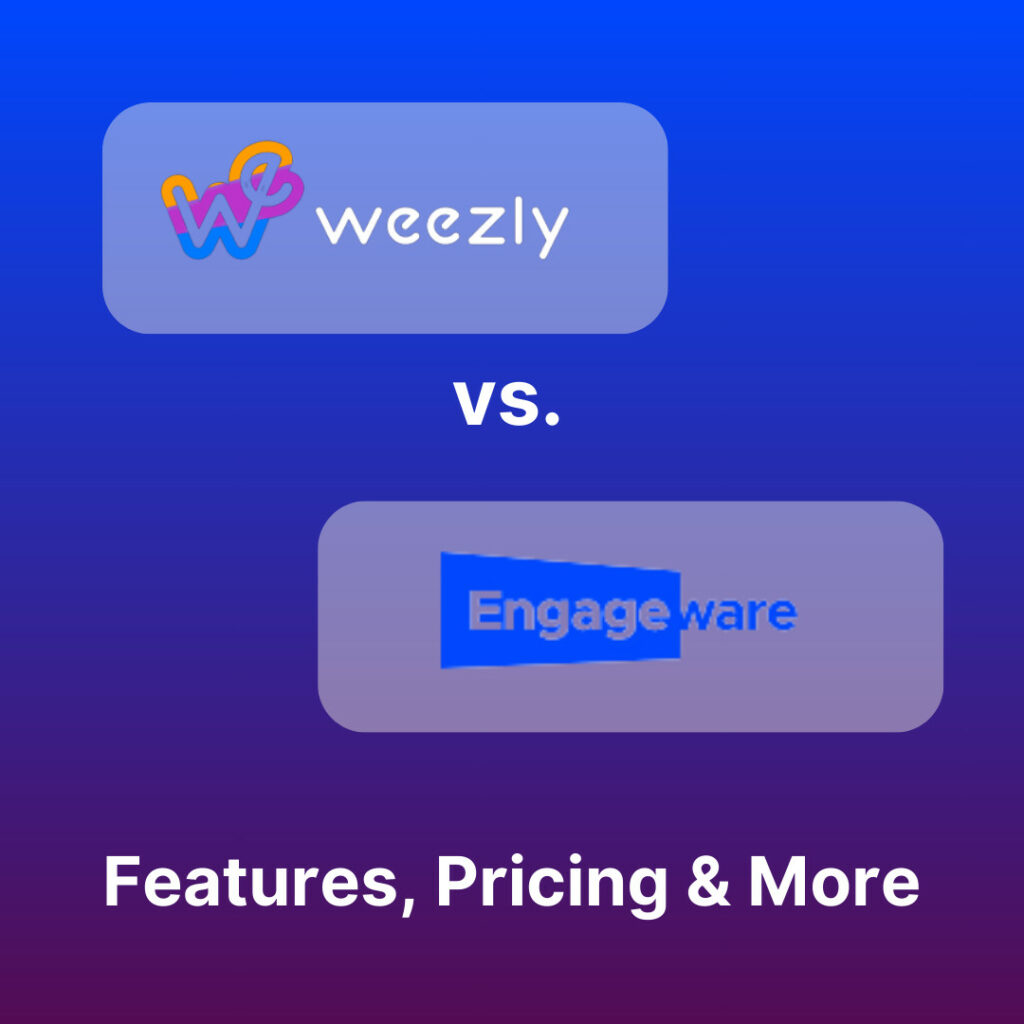 What are Weezly and Engageware?
Weezly and Engageware are two software products that have taken the market by storm, thanks to their diverse range of features and user-friendly interfaces. Though they share some similarities, their unique aspects set them apart. In the subsequent sections, we will explore these differences in detail.
Weezly is an innovative scheduling platform that simplifies arranging meetings, conferences, and collaborations by connecting your calendar with others. On the other hand, Engageware is a versatile tool focusing mainly on customer relationship management, although it also includes efficient scheduling capabilities.
Weezly vs Engageware: How do these tools compare?
There are several ways to examine and compare both tools and determine which could be best for your business:
Weezly vs Engageware: Features
Interface: Both systems balance functionality and user-friendliness well, making them accessible for beginners.
Scheduling options: Far more than just a Calendly alternative, Weezly provides robust scheduling possibilities ranging from one-on-ones to group sessions, while Engageware specializes further, allowing you to implement distinct service-level agreements for varied customer needs.
Weezly vs Engageware: Pricing
The pricing differs significantly. Weezly keeps it simple with straightforward per-user pricing, whereas Engageware approaches it based on your company's size and requirements.
Integration:
When considering integrating with other apps like Google Calendar, here too they fare quite differently – see our separate discussions on how to sync Calendly and Google Calendar, and how different each of these platforms does at melding workflows with external applications seamlessly.
Features
Weezly
Weezly offers an impressive array of features for businesses looking to streamline their operations and engage their customers more effectively. Some of the key features include:.
Customizable option of how and when you're booked.

Integrated Analytics

: Real-time insights with

powerful data analytics
Automated Marketing Tools

: Personalized marketing strategies at your fingertips.

Multi-language Available: Including 24 different languages.
Engageware
Engageware, on the other hand, has tailored its software to enhance customer engagement through seamless interactions. Its standout features include:
Omnichannel Support: Integrating channels like email, chat, and social media.
AI-powered Customer Support: Leveraging artificial intelligence for efficient support.
Customizable User Interface: Modify the layout according to your branding needs.
Advanced Reporting Tools: Detailed insights through Engageware's analytics.
Comparison Table between Weezly vs Engageware
| Features | Weezly | Engageware |
| --- | --- | --- |
| Customer Relationship Mgmt | Yes | Limited |
| Integrated Analytics | Yes | Yes |
| Automated Marketing Tools | Yes | No |
| Multi-platform Support | Yes | Yes |
| Omnichannel Support | Yes | Yes |
| AI-powered Customer Support | No | Yes |
| Customizable User Interface | Yes | Yes |
Depending on your specific needs, alternatives may work better
Despite offering valuable solutions, neither Weezly nor Engageware might fit every situation perfectly –enter, alternatives. There exists a field rich with [Doodle, Acuity Scheduling, and YouCanBook.me, Appointlet, etc_. ] Here're some quick outlines to initiate exploration into alternatives:
As shown above, no matter what you require help with, there's likely a suitable application waiting somewhere. Therefore, while comparing Weezly and Engageware, ensure not to overlook potential alternatives fitting your necessities even better.
Weezly vs Engageware: Conclusion
While choosing between Weezly vs Engageware (or any of these aforementioned names or perhaps another?), remember to keep your primary goals in front– whether it's merely appointment scheduling or more holistic task management — because, ultimately, the best tool is the one serving your objectives optimally. Ensure to research all dimensions, including past user feedback & future scalability, thoroughly once you shortlist a candidate. That way, you're likelier to make a satisfactory decision.