In today's fast-paced world, efficient scheduling and time management are essential for both individuals and businesses. Weezly is a popular scheduling tool that simplifies the process of setting up meetings, appointments, and events. But, when it comes to Weezly pricing, it's crucial to understand the various plans and features to make an informed decision that suits your needs.
In this detailed guide, we will delve into the world of Weezly pricing, exploring its plans, features, and value for money. Whether you're a solo professional, a small business owner, or a part of a larger organization, this article will provide you with the insights you need to choose the right Weezly plan for your scheduling needs.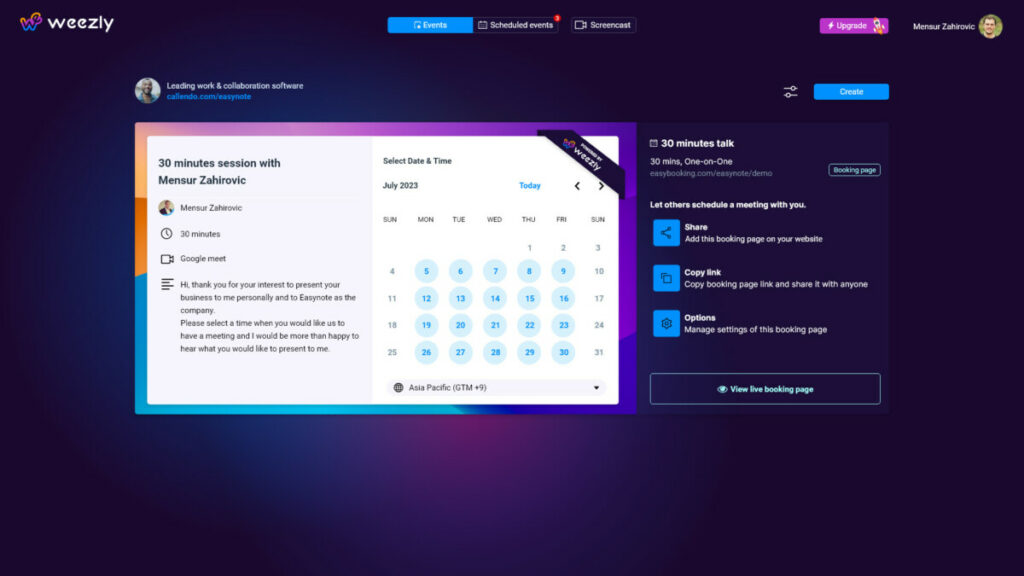 Weezly Overview
Weezly is a user-friendly online scheduling platform that streamlines the process of booking appointments, meetings, and events. It eliminates the hassle of back-and-forth email exchanges by allowing users to share their availability and let others choose a suitable time slot. This powerful tool is trusted by individuals, businesses, and organizations worldwide for its simplicity and efficiency.
Now, let's dissect Weezly's pricing structure and evaluate whether it offers value for money or not.
Weezly Pricing Plan
Plan
Price per User per Month
Key Features
Free
$0
1 event type & 1 booking page, 5 recording/month, limited video recording, and more.
Professional
$29
Unlimited event types, advanced options, personalized branding, priority support, and more.
Business
(coming soon)
$49
Premium support, unlimited features, recordings & integrations, team collaboration, and more.
Weezly offers a range of pricing plans to cater to different user needs. Let's break down each plan to help you understand their features and costs. Let's see more about every plan.
#1 Free Plan (100% Free)
The Free Plan is Weezly's free offering, making it an attractive option for individuals and small teams looking to get started with scheduling automation. Here's an overview of the key features:
One booking page
One event type
Unlimited group invites
Regular scheduling features
Five recordings per month
Video recording is limited to 2 minutes
While the Free plan is a cost-effective option, it has limitations in terms of the number of event types and advanced features available. It's suitable for freelancers and small businesses with straightforward scheduling needs.
#2 Professional ($29 per user/per month)
The Professional Plan is designed for users who require more flexibility and advanced features. Here's what you get with this plan:
Unlimited event types are included (you can create multiple event types tailored to different purposes)
All integrations are available
100 video recordings per month
30 minutes videos
Personalized branding
Priority support
The Professional Plan offers even more customization and automation capabilities, making it a strong choice for individual professionals focused on optimizing their scheduling processes.
#3 Business Plan ($49 per user/per month)
The Business Plan is tailored for teams and small organizations with more complex scheduling needs. This plan provides a high level of customization, security, and support. Key features include:
Everything from Professional Plan +
Team collaboration
Integration with enterprise tools
User management
Unlimited recordings (60 minutes)
Premium support
The Business plan coming soon. It will be designed for organizations that demand top-tier scheduling solutions with business-level support and security. Stay tuned.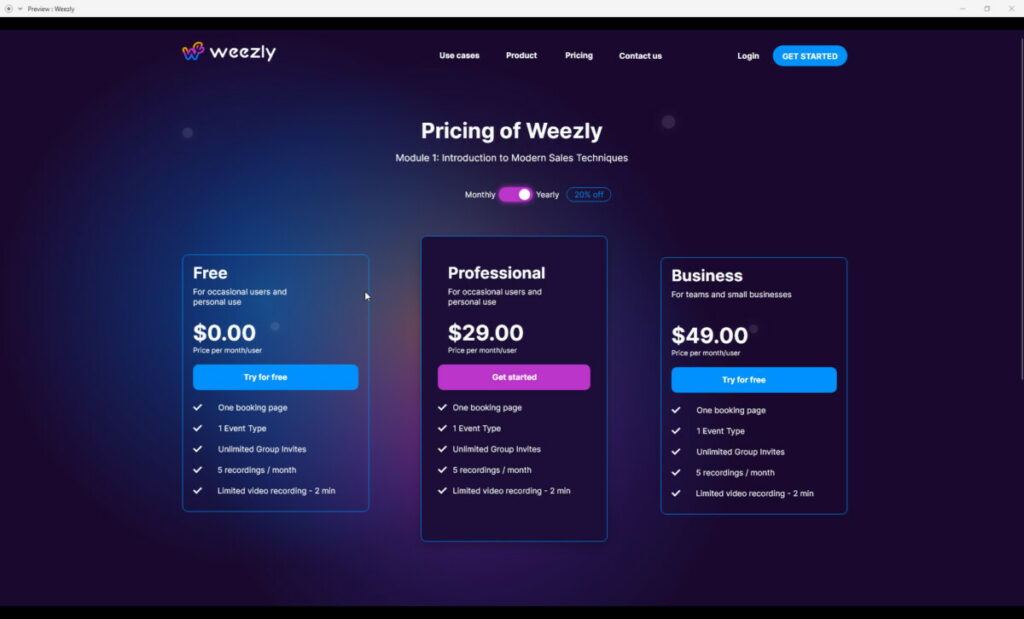 The Ultimate Value for Money
Although 'Weezly' does come with a price tag, it provides substantial returns on your investment. Its comprehensive features, streamlined interface, top-notch customer support, and constant upgrades based on user feedback reflect this.
Here's a deeper dive into Weezly's offerings which justifies their pricing:
1. User-Friendly Interface
Weezly offers an intuitive user-friendly dashboard that can easily be operated even by individuals who are not tech-savvy.
2. Compatibility
It works seamlessly with various online calendars including Google Calendar, Microsoft Outlook, etc.
3. Group Appointments
This distinctive feature allows users to manage group appointments simultaneously thereby maximizing productivity.
4. Screencast
Creating a custom video widget in 'Weezly' enables the placement of video content with the booking page on web pages. This enables faster, more efficient, and more personalized scheduling.
5. Customizable booking link
It allows businesses and individuals to maintain branding consistency and provide a personalized, professional booking experience for clients.
6. Analytics & Insights
Finally, in addition to all the important features, Weezly allows you to monitor analytics that will allow you to raise your business to a higher level.
Weezly Pricing: Final Thoughts
In the world of online scheduling, Weezly stands out as a user-friendly and feature-rich solution. Its range of pricing plans ensures that individuals, small businesses, and enterprises can find the right fit for their scheduling needs. When considering Weezly pricing, it's essential to evaluate the features, customization options, and integration capabilities that align with your goals.
Remember that choosing the right scheduling tool is a crucial decision that can significantly impact your productivity and efficiency. By understanding the various Weezly plans and comparing them to alternatives, you can make an informed choice that enhances your scheduling process and simplifies your life.