In today's fast-paced digital era, effective communication tools are crucial for businesses of all sizes. Whether you're booking client meetings, hosting webinars, or sharing screen recordings, the need for robust, integrated solutions has never been greater. Enter Weezly – a game-changing platform that combines the best features of popular tools like Calendly and Loom. Are you ready to take a dive into the world of futuristic scheduling and video sharing?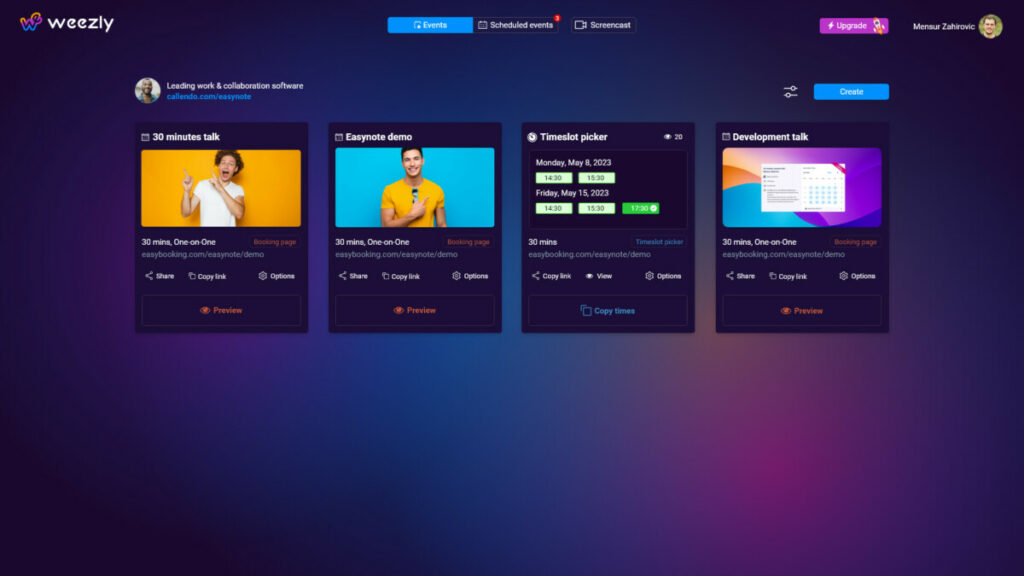 The Genesis of Weezly
Before we delve deeper into what Weezly offers, it's essential to understand the void it fills in the market. The digital world saw a surge of tools for meeting scheduling and video recording. Two giants in this space were Calendly and Loom.
Calendly has made scheduling meetings a breeze by eliminating the back-and-forth emails, while Loom provided users with a simple way to record and share video messages. However, juggling between these two platforms was not always seamless. Enterprising minds saw an opportunity to integrate these features, and Weezly was born.
Features That Set Weezly Apart
1. Unified Platform
With Weezly, you no longer have to switch between different platforms for scheduling and video recording. It offers a one-stop solution for all your needs.
2. Enhanced Video Capabilities
Not only can you record videos, but Weezly also allows for interactive video sessions, video annotations, and seamless video sharing.
3. Smart Scheduling
Harnessing the power of advanced algorithms, Weezly ensures optimal time slots are suggested to both parties involved, making scheduling conflicts a thing of the past.
4. Integration Galore
Weezly is designed to play well with other tools. Whether it's your CRM, email marketing tool, or project management suite, Weezly can seamlessly integrate with them.
Weezly: The Best Loom Alternative?
When it comes to video recording and sharing, Loom has been a favorite for many. But with the advent of Weezly, is it time to consider a switch?
Feature Richness: While Loom specializes in video recording and sharing, Weezly takes it several notches higher by incorporating interactive video sessions and video annotations.
Scheduling Capabilities: Loom doesn't offer scheduling functionalities. With Weezly, you get the best of both worlds – a powerful video tool combined with smart scheduling.
Seamless Experience: By merging two essential features under one umbrella, Weezly ensures a more streamlined user experience.
Hence, if you're looking for a comprehensive solution, Weezly might just be the best Loom alternative you've been searching for!
Benefits of Adopting Weezly
Boosted Productivity: No more platform hopping. Everything you need is in one place.
Enhanced Collaboration: With features like video annotations, teams can collaborate more effectively.
Time-saving: Smart scheduling ensures you spend less time coordinating and more time doing what you do best.
Cost-effective: Instead of paying for multiple platforms, you get all the features at a competitive price with Weezly.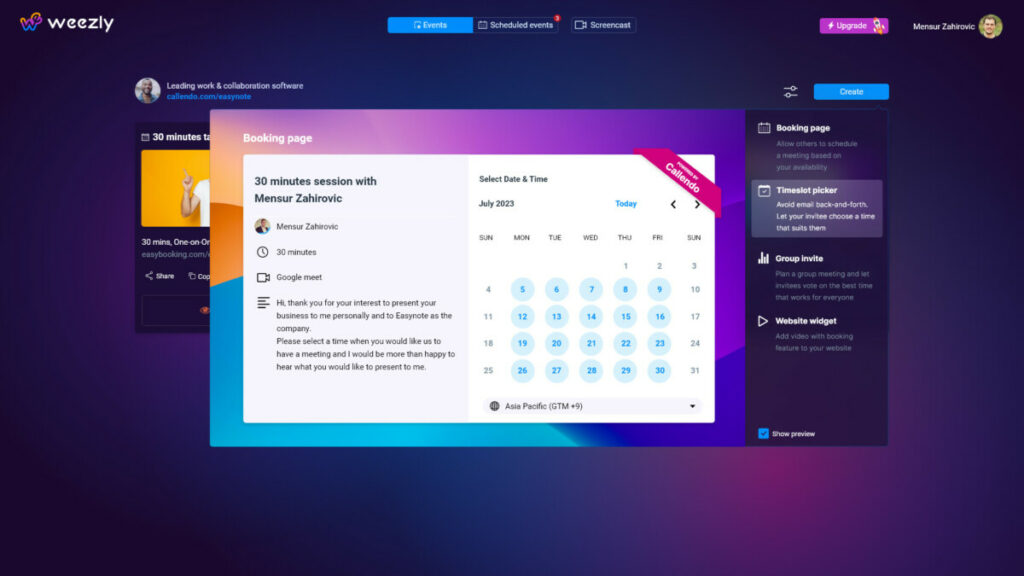 Final Thoughts
In conclusion, Weezly is not just another tool in the market. It is a holistic solution designed to make communication more effective and seamless. By integrating the strengths of tools like Calendly and Loom, Weezly stands as a testament to innovation and forward-thinking.
As businesses strive to optimize and streamline their operations, platforms like Weezly will become indispensable. So, if you haven't tried it yet, now is the perfect time to step into the future with Weezly!