In the current digital era, where every business aims to maximize productivity and streamline its operations, appointment scheduling software like Setmore has become an indispensable tool. This comprehensive guide offers a deep dive into Setmore's functionalities, providing insights into features, pricing, common queries, and more.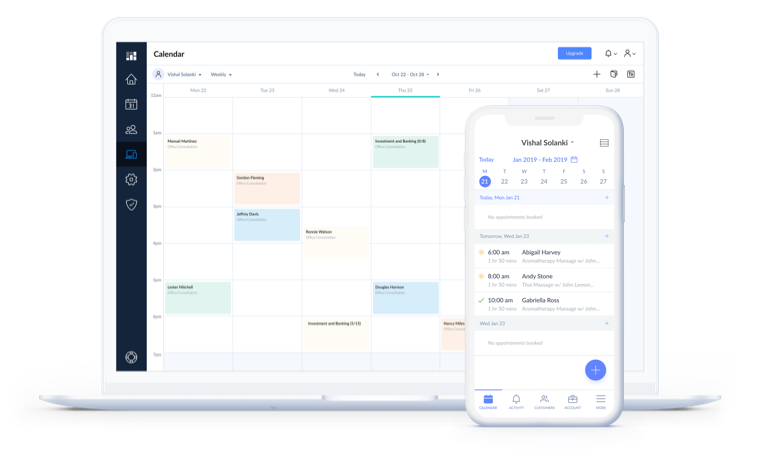 What is Setmore?
Setmore is a robust, cloud-based appointment scheduling software. It's designed to help businesses of all sizes effectively manage and streamline their scheduling process, facilitating seamless customer interactions. Serving as a virtual assistant, it goes beyond merely booking appointments, encompassing staff management, online payments, integrations, and much more.
The Importance of Setmore in Today's Business Landscape
In today's hyper-digital landscape, where businesses compete fiercely to deliver superior customer experience, effective appointment management is critical. Gone are the days of manual, error-prone appointment booking methods. In comes Setmore, allowing businesses to manage appointments efficiently, thereby freeing up resources to focus on providing exceptional customer service.
Key Features of Setmore
Setmore offers an impressive suite of features, catering to the diverse needs of businesses.
Online Appointment Scheduling
This is the core functionality of this software. The software enables customers to book appointments online through an intuitive interface, eliminating the need for back-and-forth emails or phone calls.
Automated Reminders and Alerts
To reduce no-shows and last-minute cancellations, it sends automated email and SMS reminders to both service providers and clients. This feature keeps everyone in the loop and ensures a smooth appointment process.
Integration with Popular Platforms
Setmore's integrative capacity is one of its standout features. It integrates seamlessly with a variety of platforms such as Facebook, Instagram, Google, WordPress, Weebly, and Joomla. These integrations enable businesses to extend their reach, allowing customers to book appointments from platforms they frequently use.
Online Payments
This tool simplifies the payment process with its integration with leading payment gateways such as Stripe and Square. Businesses can accept payments online at the time of booking, offering convenience for customers and improving cash flow.
Multiple Staff Profiles
For businesses with multiple team members, this tool enables the creation of individual staff profiles with separate calendars and working hours. This feature helps to manage team schedules effectively and ensures optimal resource allocation.
Customizable Booking Page
Every business wants to maintain a consistent brand image, and this tool gets this. The software allows businesses to customize their booking page according to their branding requirements, fostering a seamless brand experience.
Setmore Pricing
Setmore's pricing structure is designed to accommodate businesses of varying sizes and budgets. Detailed pricing information can be found on the Pricing Page.
Free Plan
The Free plan is an excellent starting point for small businesses or individuals. It offers basic features such as appointment booking, automated reminders, and a customizable booking page. It can be used up to 4 people
Pro Plan
Priced at $12 per month per user, the Premium plan is designed for growing businesses. This plan includes advanced features like text reminders, recurring appointments, and 2-way calendar synchronization with Google or Office 365. Pro Plan can be used by up to 2 people.
Team Plan
For larger businesses or those with more extensive needs, Setmore offers the Pro plan which has unlimited users. At $9 per month per user, this plan offers additional features like priority customer support, management of multiple locations, and the option to add custom booking fields.
What People Generally Search for When Looking for Setmore
Commonly, people searching for Setmore are looking to understand its functionalities, pricing, and how it can be integrated into their current workflows. Here are some frequently asked questions:
How much does Setmore cost?
How can I integrate Setmore with my website or social media platforms?
Does Setmore send SMS reminders?
Is there a mobile application for Setmore?
How do I accept online payments through Setmore?
How does Setmore compare to other scheduling software?
Deep Dive into Frequently Asked Questions
How easy is it to set up Setmore?
This scheduling software is designed for user-friendliness. Its intuitive interface and step-by-step guides make the setup process straightforward. Moreover, Setmore's Help Center offers a wealth of resources, including tutorials and FAQs, to assist users.
Can I use Setmore for multiple business locations?
Yes, with the Pro plan, businesses can manage multiple locations using a single account, making it ideal for franchises or businesses with several branches.
Does Setmore integrate with my website?
Absolutely! The tool can be integrated with popular website builders, including WordPress, Weebly, and Joomla. By adding a 'Book Now button to your website, you can turn site visitors into booked appointments.
Does Setmore offer a mobile application?
Yes, Setmore provides mobile applications for iOS and Android devices. With the mobile app, businesses can manage their appointments, access customer details, and receive notifications, all from the convenience of their smartphone or tablet.
Wrapping Up
By revolutionizing appointment management, Setmore offers businesses a way to streamline their operations, enhance customer experience, and ultimately drive growth. Its comprehensive features, combined with its affordable pricing structure, make it a worthy contender in the realm of appointment scheduling software.
Whether you are a solopreneur, a growing business, or a large corporation, Setmore offers scalable solutions tailored to meet your unique scheduling needs. If you're considering scheduling software, this software could be the smart choice you need to elevate your business operations.
Setmore has made it into our list of best Calendly alternatives.