As the tax season approaches, you may find yourself juggling with financial documents and thinking about the best way to ensure maximum returns on your tax filings. One of the most renowned services that millions trust for tax preparation is H&R Block. A crucial feature they offer is the ability to schedule appointments, ensuring that you get personalized attention for your unique financial situation. In this guide, we'll dive deep into understanding how to schedule an appointment with H&R Block, what to expect, and how to make the most of your session.
Why Schedule an Appointment?
Before we delve into the scheduling process, it's essential to understand the benefits:
Expert Guidance: With the complex and ever-changing tax laws, having a professional by your side can help ensure you're not leaving money on the table.
Personalized Attention: Every individual's financial situation is unique. By scheduling an appointment, you can discuss specific concerns related to your finances.
Efficient Time Management: Instead of waiting in long queues during peak tax season, having a scheduled time slot ensures that you're attended to promptly.
How to Schedule an Appointment with H&R Block
The process to schedule an appointment is straightforward:
Online Portal: Navigate to the H&R Block website and click on the "Find an Office" or "Schedule an Appointment" tab. This will guide you through the steps to find your nearest branch and set an appointment.
Mobile App: H&R Block also offers a user-friendly mobile app available for both iOS and Android devices. Once downloaded, you can quickly set up an appointment from the comfort of your smartphone.
Phone Call: If you're more comfortable talking to a representative, you can also call your local H&R Block office to set up an appointment.
Preparing for Your Appointment
Once your appointment is set, it's essential to come prepared. Here's a checklist of what you might need:
Personal Information: Social Security numbers for yourself, spouse, and dependents.
Income Statements: W-2s, 1099s, and any other income-related documents.
Expense Documentation: Receipts, invoices, and other relevant documentation.
Previous Year's Tax Return: Particularly if you're a new H&R Block client, this provides valuable context for the tax professional.
What to Expect During Your Appointment?
Your scheduled time with H&R Block will typically involve:
Consultation: A thorough discussion about your financial situation, any significant changes from the previous year, and addressing any specific concerns.
Document Review: Your tax professional will review the documents you've provided, ensuring completeness and accuracy.
Recommendations: Post-review, the tax expert might offer suggestions for tax-saving strategies tailored for you.
Completion: After your review and consultation, your tax return will be completed, ensuring it's accurate and optimized for the best results.
Tips for a Successful Appointment:
Ask Questions: Remember, this is your time. Don't hesitate to ask any questions or voice concerns.
Stay Updated: Tax laws change. Your H&R Block professional will be up-to-date, but it doesn't hurt to read up on recent changes yourself.
Feedback: H&R Block values customer feedback. After your appointment, consider providing feedback to help them serve you better in the future.
Considering Weezly for Scheduling: A Worthwhile Alternative?
In today's age, where digital platforms are continually evolving to offer optimal convenience to users, it's worth noting that while H&R Block provides a robust system for appointment scheduling, there are other tools out there that can add even more efficiency to your planning needs. One such tool is Weezly.
Why Opt for Weezly?
Here are some reasons why Weezly might be a favorable option for many:
User-Friendly Interface: Weezly is known for its intuitive and clean interface, making it simple for even non-tech-savvy individuals to schedule appointments.
Integrated Calendar Views: With Weezly, you can seamlessly integrate your calendar, be it Google, Outlook, or any other. This helps in avoiding any overlaps and viewing all your commitments in one place.
Automated Reminders: We've all been in situations where we forgot about an appointment. With Weezly's automated reminder system, both the service provider and the client get timely notifications, reducing no-shows.
Customizable Time Slots: Whether you're a business or an individual, Weezly allows you to set your availability, ensuring that you're not overwhelmed with back-to-back meetings.
Multi-Platform Support: Weezly is accessible from any device, be it a desktop, tablet, or mobile, making sure you're always connected.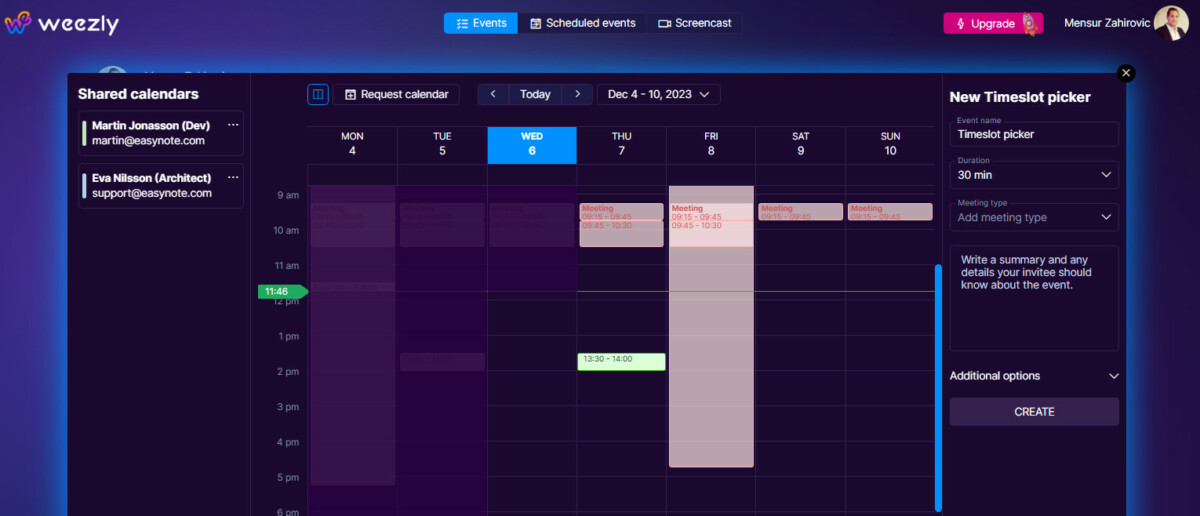 Conclusion
Scheduling an appointment with H&R Block is not only a step towards efficient tax filing but also a way to ensure you're making the most of your financial situation. By understanding the benefits, knowing the scheduling process, and coming prepared, you're setting yourself up for a smooth and productive experience.
Remember, while tax season might seem daunting, having a trusted professional by your side can make all the difference. H&R Block's appointment system is designed to cater to your needs. H&R Block offers a comprehensive system, but you shouldn't overlook the added benefits of a tool like Weezly, especially if you prioritize streamlined scheduling.