Loom is a widely renowned screen recording tool, allowing users to capture and share their screens effortlessly. Whether you're an educator, content creator, or business professional, Loom offers a solution to meet your needs. In this guide, we'll deep-dive into and explore Loom pricing, its varied plans, and the value each one brings. Let's get started.
What is Loom?
Loom has quickly become one of the most popular tools for screen recording and video messaging. What started as a simple idea has now transformed into a platform used by millions worldwide. With its rise in popularity, it's essential to understand its pricing model and the features associated with each plan.
Loom was founded with the goal of creating a more efficient and interactive form of communication. Traditional emails and messages lacked the personal touch of face-to-face interaction. Thus, Loom was created to bridge this gap, providing an easy-to-use video messaging tool for all.
Now, let's dive right into the specifics!
Loom Features: Overview
Before diving into the pricing, let's understand the core features Loom offers:
Video Recording: Capture your screen, voice, and face.
Video Editing: Trim your videos, add captions, and more.
Instant Sharing: Share your videos through a link or download them.
Video Library: Organize and manage your videos efficiently.
Team Collaboration: Comment, react, and collaborate on videos.
Analysing Loom Pricing Tiers
To ensure you're choosing the most appropriate plan for your needs, it's crucial to understand each Loom pricing tier – Starter, Business, and Enterprise. Each comes with varying features that suit different usage demands.
1. Starter
As the name suggests, this plan offers no-cost access to basic recording and video-sharing functionalities – ideal for freelancers or student tutors who need a simple method of screen-sharing with clients or pupils.
Starter model include:
Screen and camera recording.
Access to video editing tools.
Videos are stored for up to 7 days.
3. Business
For $12.50 per user/month, businesses get everything in the Starter model plus advanced management features like Single Sign-On (SSO), Brand Settings, Engagement Insights, and Priority Support. This is well suited to larger organizations needing to manage multiple users and track viewer engagement effectively.
The business model includes:
All features of the Free Plan.
Unlimited video storage.
Advanced recording tools, including HD recording.
Priority support.
4. Enterprise
For organizations looking for robust solutions, Loom offers an enterprise-grade plan packed with premium features including usage analytics, customer success manager, and API Access. The exact pricing isn't readily available and requires reaching out to their sales team.
Tailored solutions for big teams.
Advanced team collaboration and management tools.
Premium support.
Custom integrations.
Plan
Features
Ideal For
Free Plan
($0)
– Screen and camera recording
– Access to video editing tools
– Videos stored for up to 7 days
Individuals and Hobbyists
Business Plan
($12.50 user/month)
– All features of the Free Plan
– Unlimited video storage
– Advanced recording tools, including HD recording
– Priority support
Professionals and Small Teams
Enterprise Plan
(Custom)
– Tailored solutions for big teams
– Advanced team collaboration and management tools
– Premium support
– Custom integrations
Large Teams and Corporations
How Can You Make an Informed Decision About Loom Pricing?
There is no one-size-fits-all answer to which pricing option will best serve you. Below are some guiding factors designed to help navigate your decision-making process:
Understanding Your Needs: Are you a freelancer, or

small business owner, or do you work for a large enterprise? Your role and demands dictate what tools you'll need.

Define Budget Limitations:

As always, budget considerations hover over any decisions about investing in digital solutions. Be sure to align functionalities against costs and available budgets. Even if a platform offers advanced features, they aren't beneficial if you don't really need them (or can't afford them!).

Free Trial Evaluation:

Most platforms like Loom offer free trials for their paid plans. Make use of this opportunity to assess whether its services truly meet your needs before fully committing.

Ease of Use:

Platforms differ in their usability and interfaces. Ensure that whichever solution you pick doesn't become an inconvenience due to complex manoeuvers.

Check Customer Support Availability:

Prompt and helpful customer support makes all the difference while getting acclimated to new software or facing technical difficulties.
Overall, exploring Loom's pricing options alongside other market competitors provides insights into how different platforms stand next to each other. It is important to understand that what works marvelously for one business might not work as well for another. Therefore, make an informed decision based on a clear understanding of your specific needs and budget limitations.
The Best Loom Alternative with Advanced Features – Weezly
When discussing screen recording and video messaging, Loom often emerges as a go-to choice for many. However, in the fast-evolving tech landscape, there's a new contender that's catching everyone's attention: Weezly.
What makes Weezly unique? It's not just a Loom alternative; it brilliantly fuses the capabilities of Loom with the scheduling prowess of Calendly. Let's dive deep into why Weezly could be your next favorite tool:
1. Dual Utility:
Unlike most screen recording tools, Weezly doesn't just stop at capturing and sharing your screen. It seamlessly integrates scheduling, making it a holistic platform for professionals who need to record, share, and set up meetings or presentations.
2. Streamlined Workflow:
Remember the days of using two platforms: one for scheduling your meetings and another for sharing a video message? With Weezly, that's history. Jump from a video right into a booking page without ever switching platforms.
3. Advanced Features:
Drawing from the strengths of both video and calendar, Weezly offers features that are a notch above its competitors. From high-definition screen recordings to intuitive meeting reminders, the platform is built to enhance user experience at every step.
4. Cost-Effective:
By merging the utilities of two platforms, Weezly offers a budget-friendly alternative for businesses and individuals. Instead of investing in two separate tools, users get the combined functionalities at a competitive price point.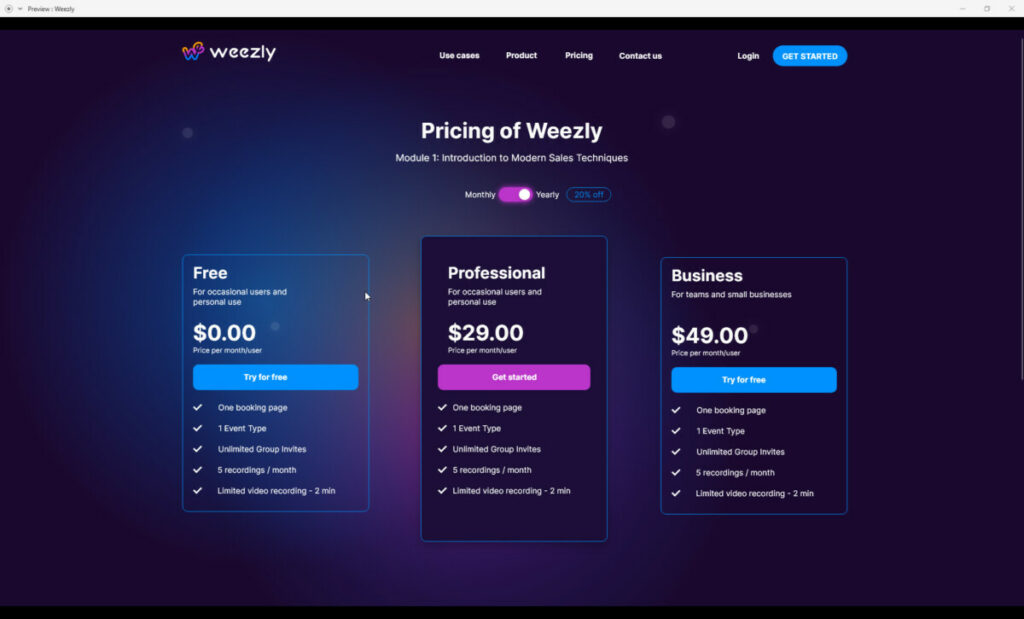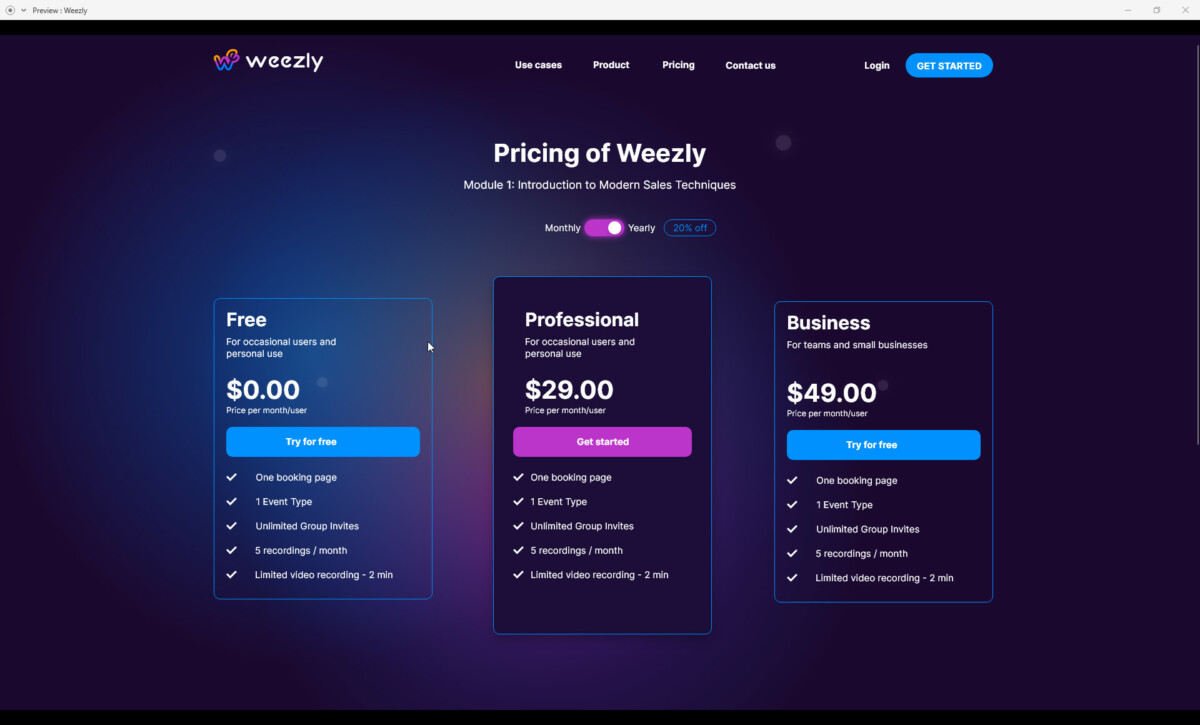 5. Seamless Integrations:
Just like its predecessors, Weezly understands the importance of integrations. Whether it's syncing with your Google Calendar or integrating with third-party applications, Weezly ensures smooth interoperability.
In conclusion, while Loom remains a strong choice for video messaging, Weezly emerges as a game-changer, offering comprehensive features that cater to both scheduling and video communication needs. For those who are on the hunt for an all-in-one solution, Weezly could very well be the answer.

EXPLORE MORE: The Best 20 Loom Alternatives in 2023
Loom Pricing: Final Thoughts
Choosing the right plan largely depends on your requirements. If you're just starting out or need the tool occasionally, the Free Plan works wonders. But as you scale and require more advanced features, it's wise to invest in the Business or Enterprise Plan.
In conclusion, Loom's pricing is transparent, and its value proposition is clear. The tool is not just about screen recording; it's about efficient communication. And as they say, good communication is priceless.
For more in-depth information, reviews, and user experiences, sites like G2 Crowd and Capterra offer invaluable insights.
Remember, every tool is as good as how you use it. So, leverage Loom to its fullest, and happy recording!