Selecting a scheduling platform that suits your needs can be overwhelming, especially when you're caught between two robust tools such as – Calendly vs OnceHub. These platforms have transformed how businesses schedule meetings by automating the process. But which one should you choose? This article aims to provide you with a comprehensive comparison so you can make an informed decision.
Overview of Calendly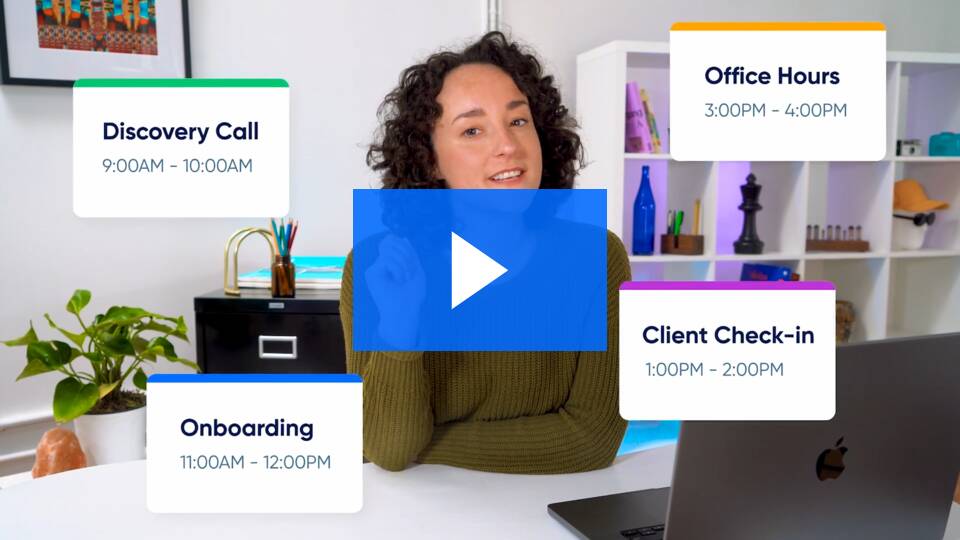 Calendly, often considered among popular Calendly alternatives like Doodle, this platform excels in providing a streamlined, user-friendly scheduling experience.
Key features of Calendly include:
Syncs easily with Google, Office 365, Outlook, and iCloud calendar
Option to embed the Calendly widget on the website
Allows unlimited event types
Further insights about using the platform, logging in, and embedding its widget are available on blogs like how to use Calendly, Calendly login guide, or even a detailed post explaining how to use the Calendly widget.
Overview of OnceHub
As another powerful appointment scheduling tool, OnceHub offers various advanced features to cater to more complex scheduling scenarios.
Key features of OnceHub include:
Integration with major CRM systems
Supports multiple meeting types including collective, sequential, and one-on-one meetings
Automatically generates personalized meeting links
In-depth Comparison – Calendly vs Oncehub
User Interface and Ease of Use
Both Calendly and OnceHub offer intuitive interfaces, making them easy for users to navigate. While you may find information on how to use Calendly, there isn't much difficulty getting acquainted with OnceHub either, thanks to its clean layout and the step-by-step guide it provides to new users.
Features Comparison
While both tools offer solo and team meeting options, they differ slightly on other functionalities. For instance, while both tools allow synchronization with many calendars, including Google; only Calendly provides a detailed guide on how to sync it explicitly with Google Calendar.
Timezone detection in OnceHub is automatic compared to Calendly where customization by individual invitees is necessary. Similarly, both support third-party app integrations. However, OnceHub supports more CRM integration than Calendly does which could act as a deciding factor if you need these specific connections.
Pricing Comparison
Understanding pricing models helps determine whether Calendly or OnceHub aligns better with your budget.
However, keep in mind that both Calendly and OnceHub offer free trials and affordable prices per user, depending on whether you opt for their Basic, Premium, or Professional plans. You can check Calendly prices and OnceHub prices.
Comparative Features of Calendly vs OnceHub (2023)
| Feature | Calendly | OnceHub |
| --- | --- | --- |
| Scheduling Options | Single, multi-person, group events | Single, multi-person, group events |
| Calendar Integrations | Google, Outlook, Office 365, iCloud | Google, Outlook, Office 365, Exchange |
| Time Zone Detection | Yes | Yes |
| Buffer Time | Yes | Yes |
| Customizable Availability | Yes | Yes |
| Event Types | Unlimited | Limited in basic plans, Unlimited in higher plans |
| Meeting Duration Control | Yes | Yes |
| Automated Reminders | Yes | Yes |
| Customizable Notifications | Yes | Yes |
| Direct Website Integration | Yes | Yes |
| CRM Integration | Limited CRM systems | More extensive CRM systems |
| Pricing | Free basic plan, premium plans start at $8/user/month | Starts at $12/user/month, no free plan |
| Customizable Branding | Premium Plans Only | All Plans |
| Mobile App | Yes | No |
| API Availability | Yes | Yes |
| Round Robin Meeting Distribution | Yes | Yes |
| Customer Support | Email and premium support for paid plans | Email, phone support for premium plans |
| Privacy | GDPR compliant | GDPR compliant |
Wrapping Up
The choice between Calendly vs OnceHub boils down to personal preference and requirements. If you prefer simplicity and ease of use, then Calendly might be a great fit but if functionality matters most to you, OnceHub seems to take the lead.
Moreover, keep in mind that there are also other notable competitors in the market like Doodle, Acuity, Appointlet, SuperSaas, etc., each having strengths and weaknesses in different areas.
Therefore, consider your use case and check out side-by-side comparisons like Calendly vs Doodle, and Calendly vs Appointment.ucy, Calendly vs SimplyBook.me, etc., before finalizing any scheduling tool. Happy scheduling!