The global shift to remote work has made one thing crystal clear: online scheduling tools have become essential. Today, we're going to delve into a detailed comparison of two popular platforms—Calendly vs Harmonizely—to help you make the best decision for your business.
As part of our comprehensive evaluation, we'll dissect everything from their user interface, integrations, customer support, pricing, ease of use, customizable features, and even check out some commonly asked questions about both platforms. So buckle up and let's get started!
Understanding Calendly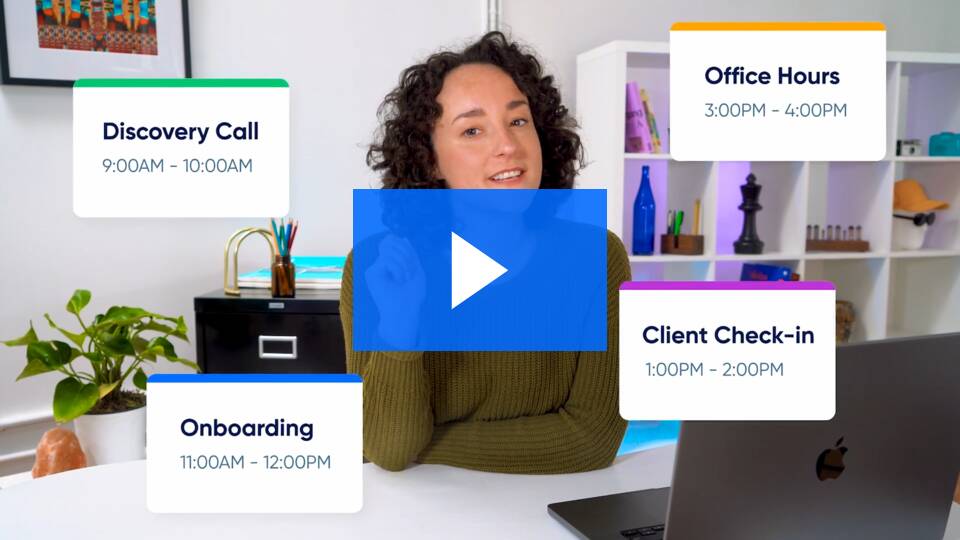 Calendly is undoubtedly one of the most sought-after scheduling solutions available today used widely by professionals across varied sectors-from freelancers, teachers, sales staff, consultants, etc.
Key Features Of Calendly
Easy Integrations: Calendly integrates seamlessly with Google Calendar, Office 365, Outlook, iCloud, and other apps like Zoom, Salesforce, PayPal, Stripe, and more.
Intuitive User Interface: The user interface is easy to navigate even for first-timers allowing them to sync Calendly with Google Calendar.
Customization Options: From meeting length, buffer times, and availability preferences to sending automated reminders, Calendly offers extensive customization options.
However, no tool is without its own set of flaws and alternatives. There are numerous other tools similar to Calendly such as Doodle, OnceHub, Acuity Scheduling, YouCanBook.me, Appointlet, and Setmore.
Now, let's pivot towards Harmonizely and discuss what it brings to the table.
Discovering Harmonizely
Harmonizely, though not as popular as Calendly, offers robust functionalities that enable users to schedule meetings effortlessly.
Essential Features Of Harmonizely
Unlimited Meetings: Unlike many competitors, Harmonizely does not restrict the number of conferences you can plan in the free version.
Multiple Integration Capabilities: Harmonizely also matches Calendly in terms of integrating with key third-party applications.
However, Harmonizely, like Calendly, also faces fierce competition from tools like Engageware, SimplyBook.me, SuperSaaS, Pick.co, and Vyte.
So far, we've broken down each platform's basics, but if you're still on the fence, don't worry! We're now diving into an in-depth comparison between these two tools.
A Head-to-Head Comparison – Calendly vs Harmonizely
1. Pricing:
Both offer very competitive rates; however, Harmonizely provides slightly lower costs compared to Calendly.
2. Customer Support:
While both platforms offer excellent support, Calendly edges past Harmonizely thanks to its comprehensive knowledge base and live chat facility.
3. Customizability:
This is where Calendly shines with extensive customizable options when compared against Harmonizely.
From an overall perspective, although it's quite close, Calendly seems to come out slightly ahead. However, the choice between the two ultimately depends on factors like budget constraints, specific feature requirements & team size because what works best for one company, may not necessarily work best for another.
Commonly Asked Questions About Calendly vs Harmonizely
Below, we'll address some frequently asked questions related to these platforms.
Q: Which is easier to use – Calendly vs Harmonizely?
A: Both tools are wonderfully easy to use. But if forced to pick, many seem to enjoy Calendly's straightforward navigation and UI.
Q: Can Freelancers Reap Benefits from Using These Tools?
A: Absolutely yes! Platforms like these allow freelancers to focus on high-value tasks while automating the mundane aspects of scheduling and back-and-forth emailing (Calendly for freelancers).
Q: What makes Calendly stand out?
A: Have you seen the nifty Calendly Widget?
In closing, both Calendly and Harmonizely present solid scheduling solutions packed with useful features designed to streamline your process. Remember, consider your unique business needs and choose accordingly—it doesn't hurt to try both before making a long-term commitment.