In today's digital age, the way we manage our schedules has drastically advanced. Gone are the days of physical diaries and planners as they pave the way for more sophisticated, digitized tools like Calendly. As many people ask how to use Calendly features, this comprehensive guide aims to help you unlock its full potential.
Why Choose Calendly?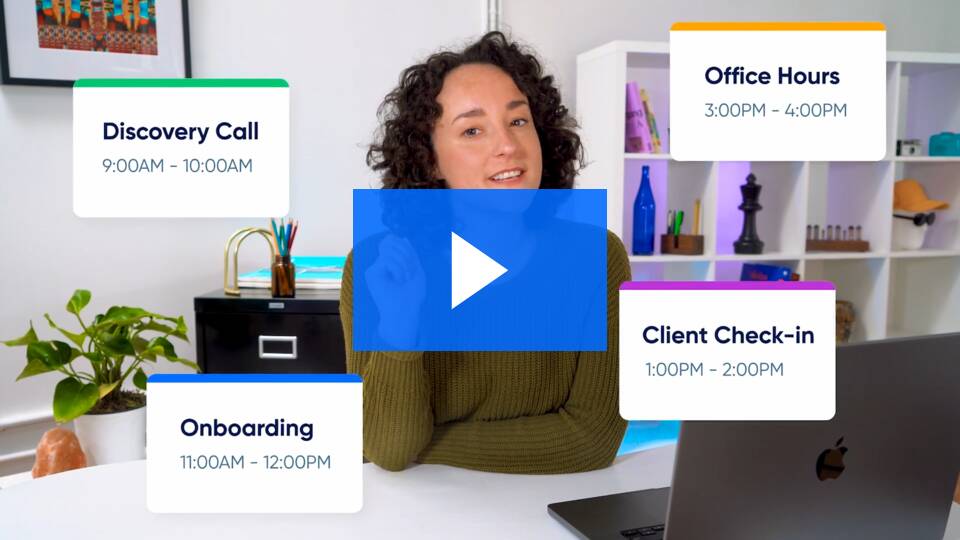 Calendly, at its core, is a cloud-based scheduling service that allows users to streamline their appointment scheduling process. The platform integrates with popular calendar apps, such as Google Calendar, Outlook, and iCal, ensuring your schedule stays up-to-date. Whether you're a freelancer, a small business owner, or a part of a large enterprise, Calendly simplifies your scheduling needs.
Before we dig deeper into Calendly's capabilities, it would be smart to explore why it stands out among various scheduling apps such as Doodle, oncehub, acuity scheduling, YouCanBook.me, Appointlet, and Setmore to name a few. This is an essential step towards understanding how to use Calendly.
Aside from containing basic schedule management functionalities present in alternatives like Doodle or Acuity Scheduling, Calendly offers unique features designed to boost productivity and workflow efficiency. Plus, given its ability to sync with Google Calendar, it's possible to seamlessly combine your professional and personal appointments in one place.
So, let's delve into its standout features.
Powerful Calendly Features
One of Calendly's standout features is its intuitive user interface. It's easy to navigate and understand, even for those who aren't tech-savvy. Additionally, Calendly's robust integration capabilities, ranging from calendar apps to CRM systems, position it as an all-in-one scheduling tool for both individuals and businesses.
Furthermore, Calendly takes the lead with its feature-rich free tier, allowing users to explore its scheduling capabilities before committing to a paid plan. This approach makes Calendly a cost-effective solution, particularly for smaller teams or individual users.
So, let's explore
Here are some excellent features that make Calendly uniquely qualified as one of the most popular scheduling apps:
Easy Integration: With just a single Calendly login, users can integrate their accounts with numerous online platforms. You can connect your Calendly account with your Google, Outlook, or Office 365 calendar, ensuring all your appointments are in one place. Furthermore, integration with CRM platforms like Salesforce allows you to keep track of your client interactions effectively.
Advanced Customizations: Rather than working around other people's schedules, you set your availability. Calendly then shows only these slots to potential invitees, ensuring you are never double-booked or scheduled during your time off. So, the Calendly widget can be personalized according to business branding.
Optimized Time Management: Calendly helps free up time by eliminating back-and-forth emails when setting meetings, making life easier for freelancers.
Event Types: One of the fundamental features of Calendly is the ability to set different event types. You can choose the duration of the meeting, whether it's a quick 15-minute catch-up or a more comprehensive 60-minute consultation. This flexibility allows users to manage their time efficiently and cater to different appointment needs.
Time Zone Intelligence: Global collaboration is no longer a complex issue. Calendly automatically detects the time zone of your invitees, displaying your availability in their local time. This feature eliminates the confusion of calculating time differences, making scheduling more straightforward for international clients or team members.
Table of Calendly Features
| Calendly Features | Description |
| --- | --- |
| Event Types | Calendly allows you to set up various types of meetings (1:1, round-robin, collective, and group events). This flexibility ensures you can handle a multitude of scheduling scenarios. |
| Calendar Integrations | Calendly can sync with Google, Office 365, and Outlook calendars, ensuring you never double-book or forget an appointment. |
| Time Zone Intelligence | With this feature, Calendly automatically detects and converts time zones, eliminating confusion for international appointments. |
| Customizable Availability | Define your working hours for each day, allowing you to maintain a healthy work-life balance. |
| Buffer Time | Add time before or after events as a buffer to prevent back-to-back meetings. |
| Embed Options | Embed Calendly into your website or send the scheduling link via email, enhancing your reach. |
| Meeting Duration | Determine the length of different meetings, providing total control over your time. |
| Automated Notifications | Automatically send confirmations and reminders to attendees, minimizing the chance of no-shows. |
| Customizable Event Notifications | Custom notifications can be set up based on specific events, further enhancing the software's automation capabilities. |
| Team Scheduling | Calendly's team feature allows for setting up group events, making it ideal for team meetings, webinars, and more. |
Efficient Calendly Alternatives to Consider
For those curious about comparing different scheduling tools, here are some valuable resources to look at:
Learning more about these comparisons will arm you with better decision-making power when choosing which tool suits your needs best.
Wrapping It Up
So, unlocking Calendly's features and full potential maximizes your productivity levels, leading to a better work-life balance. Whether you're a freelancer looking for efficient meeting scheduling or a multinational company coordinating global team interactions, Calendly's feature-rich interface makes operations smooth and seamless. However, always remember that there are other options around, so take your time exploring what works best depending on your specific preferences and needs.